Student Accommodation
Camborne
A small market town in the heart of the Cornish countryside. Find your student accommodation by searching our website today.
Student Properties in Camborne
Sorry, no properties matching those criteria are available!
Are you a landlord looking to list a property? Register
Not sure what type of accommodation is right for you?
AFS always has the widest choice of student accommodation available. To help you find the right place to live, read our brief guide to the different types of accommodation below.
Why use Accommodation for Students?
The widest choice of student accommodation available online
Quickly make direct contact with the property to view or book your accommodation
Established in 2000, home to reputable and safe student accommodation
Free and simple to use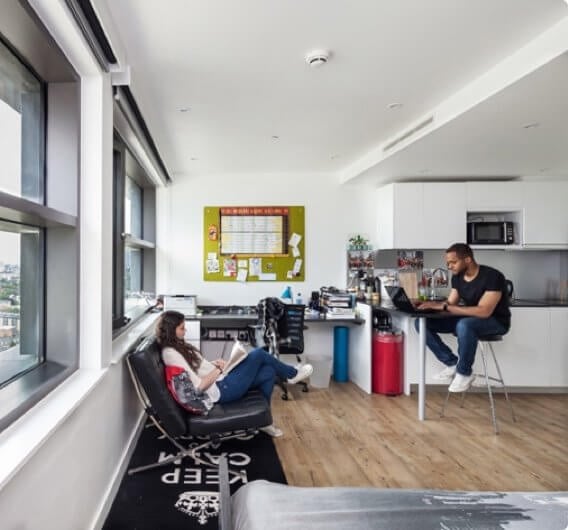 Living in Camborne as a student
Camborne is a small Cornish town and historical home of the Camborne School of Mines, now incorporated into University of Exeter and located in Penryn, where Falmouth University's 6,500 students reside. It is also home to one of the campuses of the Cornwall College which enrols 15,000 students.
FU and UoE jointly provide a good variety of student accommodation in their Penryn Campus and surrounding areas, located not very far from Camborne. There are 8 university-managed halls, both catered and self-catered, with en-suite, shared bathrooms, and shared rooms options available. There is also a wide range of attractive amenities in the various locations the universities offer. Private accommodation is also available with the most popular private providers present.
Private halls in Falmouth and Penryn provide student with a good range of options and prices, from standard en-suite rooms, to fully self-contained studios with double beds; all options have a fantastic variety of amenities available and many are in close proximity to restaurants, pubs and the beach. There is a good range of other accommodation options too. This town offers a perfect opportunity to get away from the hustle and bustle of busy university life and to settle in the picturesque Cornish countryside. Renting with a group of 4 or more friends is always a popular choice with students. Camborne, while perhaps not the most obvious choice for FU and UoE's students, can become a perfect, countryside home for those seeking closeness with nature and peaceful tenancy. It is also especially attractive to the many students of Cornwall College who study at Camborne Campus. There usually is a good supply of flats and houses for rent, both in the centre and outskirts of the town. This type of accommodation is managed by landlords and agents whose expertise in property management is often proven by their excellent reputation.
More information can be found in our comprehensive online guides. When you are ready to find your new student home, go to accommodationforstudents.com. We have over 20 years of experience in the field and we are always eager to help students find their perfect accommodation. Our site currently lists a good variety of properties in Cornwall so you are sure to finds something that suits you well. When you use our website, you can enquire directly with the accommodation, or ask our dedicated team of specialists for some additional support.
Student Areas in Camborne