Student Accommodation
Galway
Galway is a harbour city on Ireland's west coast. It's renowned for its vibrant lifestyle and for hosting numerous festivals, celebrations and events. Search here to find the latest student accommodation in Galway.
Search location
Select price
Sorry, we have no properties available in Galway
Not sure what type of accommodation is right for you?
AFS always has the widest choice of student accommodation available. To help you find the right place to live, read our brief guide to the different types of accommodation below.
Why use Accommodation for Students?
The widest choice of student accommodation available online
Quickly make direct contact with the property to view or book your accommodation
Established in 2000, home to reputable and safe student accommodation
Free and simple to use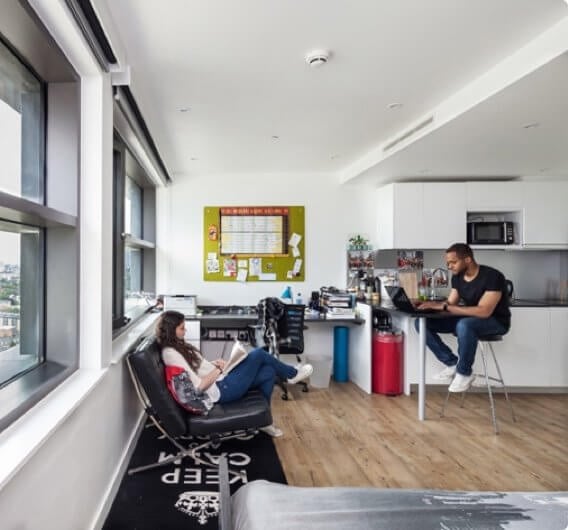 Living in Galway as a student
Galway is a vibrant city in Western Ireland. Within the city is the National University of Ireland Galway, which is attended by over 18,000 students. The city dates back to the medieval era and has a unique landscape and a tight-knit community with lots going on.
With students making up a large proportion of the city's population it does have a successful accommodation provision. There are several halls of residence in the city, which involve both properties owned by the university and privately owned halls. The university's accommodation is situated on campus within close proximity of the university's teaching, catering and sports facilities, as well as Galway city centre. Private halls in Galway provide students a great variety of choices to consider, from a regular en-suite room through to a private studio flat, with access to a variety of facilities. As well as traditional halls of residence, there are plenty of other possibilities for accommodation.
A house share is a very popular choice among students of the University of Galway who wish to move on from halls. They are particularly suited to groups of 4 or more friends. Additionally, there are many opportunities for flats and apartments within the city centre and surrounding area, for those looking for a smaller place to live. Accommodation of this manner is typically managed by landlords or letting agents who are professionals in student accommodation, there are many in Galway with a distinguished reputation.
Should you be needing any further information you can read our students guides online. If you would now like to find accommodation, start searching on accommodationforstudents.com. We have more than 20 years experience in assisting students in with their search for accommodation and we currently list a variety of residences for you to consider. Use our website to enquire directly with the accommodation or contact our team if you require any further assistance.
Frequently Asked Questions
Are you going to live and study in Galway? Here are the most frequent questions asked by other students.
Most rental contracts will start in August, so it is a good idea to start searching several months before then to give yourself the best chance of finding a place that meets your requirements. However there will be accommodation on AFS all year round.
The exact amount you will pay will depend on the exact type of accommodation you choose to live in. Right now in Galway the average price of a private rental is €200.
Accommodation for students has a wide range of student accommodation currently available. You can use the website to enquire directly to the accommodation and book a room.
In Galway the standard rental agreement is normally 50 or 51 weeks for a full year. However it is possible to stay for one semester only, which will normally be around 21 weeks in the length.
Yes a selection of the student accommodation listed on AFS will offer short term stays. In Galway this will depend on availability so you will need to check and see which accommodation offers it. Most will at least offer a semester stay option.
The amount you will pay for a deposit will depend on the accommodation you chose. Not all student accommodation in Galway requires one and where it is required the maximum amount required should be no more than 4 weeks rent.
A deposit is paid to ensure that you stick to the terms of the rental agreement. Provided you do that you should receive your deposit back.