Student Accommodation
Loughton
Located close to London, Loughton is home to a campus of the University of Essex
Student Properties in Loughton
Sorry, no properties matching those criteria are available!
Are you a landlord looking to list a property? Register
Not sure what type of accommodation is right for you?
AFS always has the widest choice of student accommodation available. To help you find the right place to live, read our brief guide to the different types of accommodation below.
Why use Accommodation for Students?
The widest choice of student accommodation available online
Quickly make direct contact with the property to view or book your accommodation
Established in 2000, home to reputable and safe student accommodation
Free and simple to use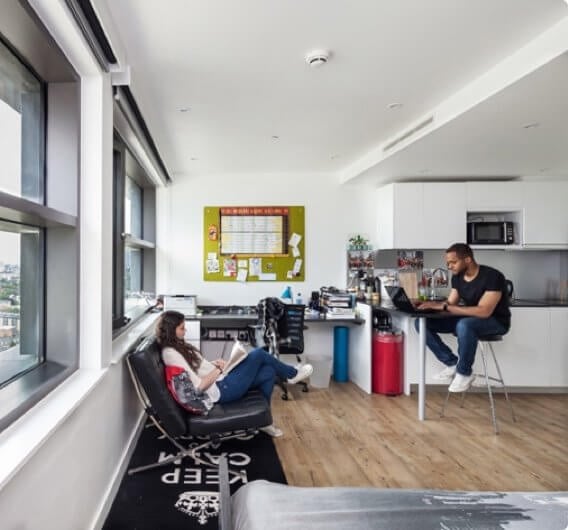 Living in Loughton as a student
Loughton is located in the Greater London area of England, and is home to the East 15 Acting School managed by University of Essex. Just a 30 minute ride on the Central Line from central London, Loughton is a student's favourite.
While UoE does not provide accommodation in Loughton, the Colchester Campus with its 15 halls of residence, including university and privately managed, make up a healthy accommodation provision for the large student base. University halls offer a variety of self-catered rooms, mostly en-suite, with some communal facilities options too. Private halls are in abundance, with most of the nation's top providers operating in the area.
The numerous private halls in Colchester provide students with a good range of options. Standard en-suite rooms all the way to larger self-contained studios are on offer, with a good choice of attractive amenities. Most halls are purpose built buildings, some more modern that other to suit everyone's needs and budgets. Other accommodation options, such as flats and houses are available in town. While perhaps not the most budgetary-savvy option, students who prefer to live in London while studying in Loughton can do so. London is abundant with private-managed halls, although they are usually located in more central locations, Living in halls in Essex is a fantastic option too—the Acting School's students really do have a plethora of convenient locations to choose from. Settling in Loughton is a perfect choice for students of the Acting School who wish to experience life in a more traditional tenancy after tasting the hall life. The beautiful surrounding area which includes Epping Forest gives an opportunity to try a variety of fantastic out-door activities such as horse riding or cycling. Moving in with a larger group of friends of 4 or more remains the students' favourite, as it allows for greater flexibility in location—closer or further from the town's centre—as well as driving down individual costs, all while giving great options between modern and period building, furnishing type or even the presence of a much sought-after garden. Smaller flats are a good option for those who hope to move in with their partner or a smaller number of flatmates. There usually is a good supply of both flats and houses in Loughton, most of which are managed by landlords and agents who specialise in student renting. Many have an excellent reputation for catering to the exact needs and wants of students, making them a safe bet.
If you are in need of more information read our in-depth city guides. When you are ready to find your new student home, head on over to accommodationforstudents.com and start your search. Our simple search tool will allow you to find the right type and size of accommodation and will allow you to enquire directly with the property of your choice! We are proud of our 20 years' experience in helping students find the right accommodation for themselves. We usually list a good selection of properties on our websites, so you are sure to finds something that suits you perfectly. You can always get in touch with us if you need additional support—our dedicated team is always eager to help!
Frequently Asked Questions
Are you going to live and study in Loughton? Here are the most frequent questions asked by other students.
When is the best time to look for student accommodation in Loughton?
Most students look for shared housing in Loughton from October, although there will be student accommodation available all year round. First year and international students generally start looking in January for halls of residence.
How much does student accommodation cost in Loughton?
The amount you pay will depend on the type of student accommodation you choose. A shared house in Loughton will cost you £86 per week. A halls of residence will cost, on average £168 per week, but could cost more depending on what type of room you select.
What is the best way to search for student accommodation in Loughton?
Accommodation for Students has the widest range of student accommodation currently available in Loughton. This includes halls of residence, house shares, flats and apartments. You can enquire directly to your chosen accommodation or get more support through our live help team. AFS has accommodation across the whole city including City Centre and Near University.
How long does a tenancy agreement last for?
In Loughton the standard length of contract is 46 weeks. However it is possible to have a longer or shorter agreement than this. Some halls of residence will only offer a 50 or 52 week tenancy agreement for example.
Is it possible to have a short term or summer only contract in Loughton?
Yes, a selection of the student accommodation listed on AFS will offer short term stays. This is most often the case for halls of residence in Loughton. Look out for the properties which have the short term let badge or filter your search by 'letting period'.
How much do I have to pay for a deposit?
This will depend on the type of property you choose. The most anyone can legally charge is 5 weeks rent. Some accommodation in Loughton halls of residence will not require a deposit at all, while on average the deposit in a shared house in Loughton will be £344.
How can I make sure I get my deposit back at the end of my tenancy?
All landlords and property manages in Loughton are legally required to protect your deposit in a legally recognised tenancy deposit scheme. If you take care of your student accommodation you should have no problem getting your money back. You can check out some further information right here.
Student Areas in Loughton