Derby - City Guide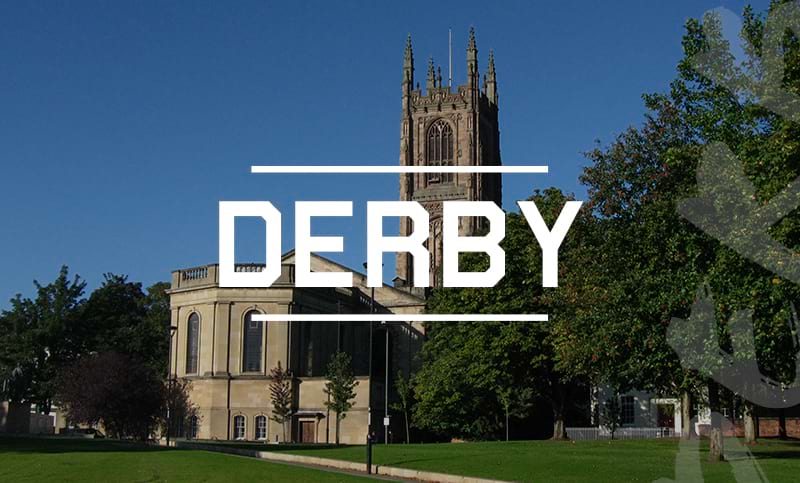 The City
It may not be a University City which immediately springs to mind when you are planning your academic career, but Derby will surprise you in so many ways. Surrounded by some the UK's most stunning countryside, Derby is compact and centrally located city, with plenty on offer for students.
Things To Do
If you look around there is some pretty decent shopping to be had in Derby. The Intu centre generally prompts existential what were they thinking feelings and is best avoided, particularly at the weekend. Babington Lane offers and altogether different shopping experience and is home to a wide range of specialist shops. The Cathedral Quarter is a pleasant cobbled area, which specialises in swankier retailers, with plenty of bars and café's dotted in between.
One of the most amazing things about Derby is the stunning countryside that surrounds it. It's a truly beautiful part of the world. If you fancy a day out, Ashbourne, Buxton and Bakewell are within easy striking distance – with easy access to the Peak District's breathtaking scenery.
When the loan dries up, Cornmarket is the place to shop. From Primark to vintage, this is the place to go that won't damage the overdraft too much.
Arts & Culture
The combination of the central location and surrounding countryside makes Derby and the immediate area ideal for festivals. You might not have heard of Bearded Theory, but this cool event has been named as the best small festival in the UK. It is set in the grounds of Catton hall (about 15 miles from the University) and takes place in mid May. Past headliners at this boutique festival include UB40, Reverend and the Makers, British Sea Power and the Levellers. It has a nice laid back, easy going charm about it.
Equally close by, but on a totally different scale is the Download Festival, Derby's annual rock event which attracts pretty much anyone who is anyone in the world of rock. My favourite though is the lovely Y Not festival. It's over near a place called Matlock (which has its own special charm) in a village called Pikehall. The stunning scenery compliments the quality line up and it is a worthy winner of the best medium sized festival event.
Music & Nightlife
There's a bit of something for everyone in Derby. Yes, we have a Popworld, if you really must go there. Personally though I'd rather head over to Mosh, over on Friargate. It's a Derby institution, built over three floors, with a legendary student night each Monday, where the fun is pretty much fuelled by extremely cheap drinks.
If you are a fan of live music you're not going to get too much in the way of major acts coming to town. However, there are a few places where you can watch some more up and coming bands and enjoy a drink or two. The Hairy Dog is very central, has a cool bar downstairs and an intimate gig venue upstairs.
Not far from the Hairy Dog, The Victoria Inn has a similarly petite gig venue (100 or so people) and serves some pretty hearty food – the train drivers stew is a particular favourite – the only meal you will need all day.