Who doesn't remember writing their personal statement? The hours of agonising over quite how many books to pretend you've read, or even how to get your teacher to write it for you without them realising it? Now that many of us have seen uni to the end, I thought it would be a good time to look back on the 4,000 characters that blagged you a space at university and to cringe at all the 'clever' and 'witty' things we wrote in order to stand out from the crowd.
1.) The flagrant lie
Here's a pretty basic one we all were guilty of: lying about how many books we'd read or how much time we spent at the British Museum as a sixteen-year-old. Unfortunately for the lucky few who bagged themselves the pleasure of an Oxbridge interview, these lies could be exposed pretty quickly: a bit like that episode of the Apprentice where they tear into the candidates' CVs.
2.) The profound quotation
As a literature student, this one comes up quite a lot. Whether it was Marx, Nietzsche, or even Jesus, we all felt that quoting someone famous and clever might somehow make us seem worldly and interesting. University of Birmingham graduate Yashi Banymandhub shared this particularly wonderful gem from her personal statement for studying English and American Literature, 'literature irrigates the desert that our lives have already become,' C.S Lewis.
3.) The overshare
Yes, your teenage years are tough and sometimes you just need someone to talk to about the problems you're having. Perhaps your personal statement might not be the place for it though. Bobbie-Ann Jones, an English with Creative Writing graduate from Birmingham wrote this explanation for why she enjoyed writing: 'I like writing as it allows me to escape the troubles of everyday life.'
Oh, to have the troubles of a teenager again.
4.) The 'clever' opening
Now it definitely wouldn't be fair for me to write this article exposing other people's cringes without exposing one of my own. I was told to write something which would make me stand out against all the thousands of other students applying for English, and this was what I wrote:
'Thinking about writing this statement has made me consider the convoluted metaphors, similes and quotations I could use to show my love for English, but I would rather apply what I have learned from my work experience in the University of York press office and be succinct.'
It's not quite as bad as writing your personal statement in the third person, but it's not far off. Even worse, I was actually really proud of this opening.
5.) The one about our 'passion'
Yes, this is the one we are all definitely guilty of. Whether it was our favourite historical novel, biomedical sciences, or volunteering for a toad spotting society, our 'passion' for whatever it was we were writing about seemed to know no bounds. A lecturer from Leeds Beckett University recently told me that whenever she sees 'passion' on someone's personal statement, she totally switches off! This sketch by David Mitchell about 'passion' summarises the point nicely:
6.) The inadvertent innuendo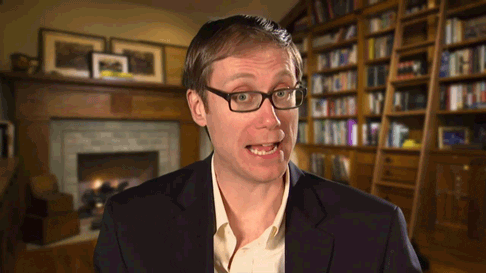 This is a rarer phenomenon on the personal statement, but definitely my favourite embarrassing mistake to make. Although I only hear these stories as anecdotes - since no one is willing to admit to them - I was told about one especially unfortunate student applying to study Physics at Cambridge who described their passion for the Hadron Collider, but unfortunately got the 'r' and the 'd' the wrong way around. That sounds extremely painful.
So there you go: looking back over your personal statement can provide a wealth of entertainment and embarrassment for your university-educated self. I think it's quite sweet, in the unnerving climate of post-university life, to look back on your 'passion' for your subject which got you into university in the first place.
By Georgia Tindale