Student Accommodation
Dublin
An impressive city with several highly regarded Universities, Dublin is a strong favourite among students. Here you will find all types of student accommodation in Dublin including student houses, flats and halls.
Search location
Select price
Student properties in Dublin
3 results
Sort properties by selecting an option
Not sure what type of accommodation is right for you?
AFS always has the widest choice of student accommodation available. To help you find the right place to live, read our brief guide to the different types of accommodation below.
Why use Accommodation for Students?
The widest choice of student accommodation available online
Quickly make direct contact with the property to view or book your accommodation
Established in 2000, home to reputable and safe student accommodation
Free and simple to use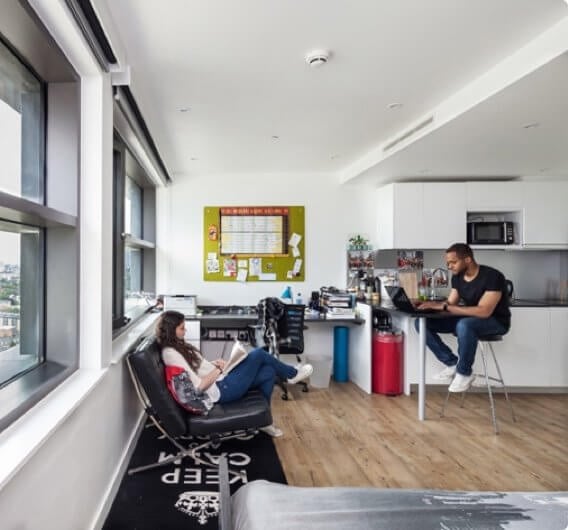 Living in Dublin as a student
Dublin is the capital city of the Republic of Ireland. This lively city is home to many universities including University College Dublin, Trinity College Dublin and Dublin City University. Dublin is rich in culture and people are welcomed to the capital from all over the world, making it a very appealing place for students to live.
With the great number of universities in Dublin, students make up a considerable percentage of the city's population. Accommodation prospects for students in Dublin are plentiful. There are over 55 halls of residence in the city, which include properties owned by the universities respectively and privately owned halls of residence. Many universities offer on-campus accommodation equipped with private or shared bathrooms as well as kitchens, with fully catered options available too.
Private halls in Dublin offer students a broad variety of choices, ranging from single en-suite rooms to more spacious and modern flats, which feature an array of exciting facilities. Aside from the halls of residence, there are also numerous other options for student accommodation.
A house share is a great choice for students in Dublin that intend to move on from halls and are especially popular with groups of 4 or more friends. Additionally, there is a wide range of flats and apartments, often located in the city centre, for those that favour a smaller place to live. This accommodation is usually managed by landlords or letting agents who are specialists in student accommodation; there are a great many in Dublin with an outstanding reputation.
If you would like any more information about the city, we have guides available for you to read online. If you are ready to start searching for your ideal accommodation, begin your search with us on accommodationforstudents.com. We have over 20 years experience in supporting students to find great places to live and we list an excellent variety of student accommodation. You can use our website to enquire directly with the accommodation or get in touch with our team for any additional advice.
Frequently Asked Questions
Are you going to live and study in Dublin? Here are the most frequent questions asked by other students.
Most rental contracts will start in August, so it is a good idea to start searching several months before then to give yourself the best chance of finding a place that meets your requirements. However there will be accommodation on AFS all year round.
The exact amount you will pay will depend on the exact type of accommodation you choose to live in. Right now in Dublin the average price of a private rental is €200.
Accommodation for students has a wide range of student accommodation currently available. You can use the website to enquire directly to the accommodation and book a room.
In Dublin the standard rental agreement is normally 50 or 51 weeks for a full year. However it is possible to stay for one semester only, which will normally be around 21 weeks in the length.
Yes a selection of the student accommodation listed on AFS will offer short term stays. In Dublin this will depend on availability so you will need to check and see which accommodation offers it. Most will at least offer a semester stay option.
The amount you will pay for a deposit will depend on the accommodation you chose. Not all student accommodation in Dublin requires one and where it is required the maximum amount required should be no more than 4 weeks rent.
A deposit is paid to ensure that you stick to the terms of the rental agreement. Provided you do that you should receive your deposit back.