Chester – City Guide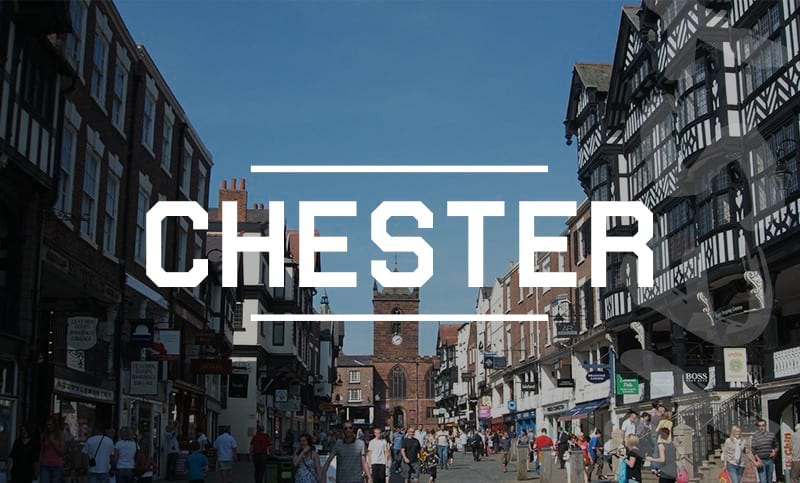 There's an old Tudor by-law that says that it's legal for a Chester resident to shoot a Welsh person with a bow and arrow if they're in the city walls at night. Now this law is, of course, no longer in place but it's this kind of history that makes Chester an absolutely fascinating city, which is becoming increasingly popular for both students and the general public alike. With its gorgeous pubs, restaurants and events that happen all year round, it's no wonder that more and more students are flocking to this historic city.
With darker nights and colder weather, it'd be hard not to talk about what's happening in Chester on the lead up to Christmas. The glitter-filled events this Christmas are a great "break" from assignments and will definitely help you get into the Christmas spirit despite being flooded with deadlines.
Winter in Chester
As a FREE event, Chester's Christmas Market has over 70 traditional wooden chalets set up, with traders selling fudge, cheese, and coffee. There's also a mini-brewery! As well as having gorgeous mulled wine on offer there is, if you prefer, delicious Hot Chocolate that, combined with the festive atmosphere, will get anyone into the Christmas spirit. The market tends to run until 20th December, and if you're lucky there may be some snow – but only if you're really, really lucky.
Central Perk
Once you've had enough of the cold, or you just want a caffeine kick before your next lecture, there are many coffee shops about Chester that can help with that. One of the latest additions is Central Perk, which may be familiar to FRIENDS fans, and it is one of only 3 similar café's in the whole of the UK! With it being in the middle of Chester, it's in an ideal location for either grabbing a coffee on the way to Uni or to nurse that hangover from the night before – and, as it offers a wide variety of food and drinks, great atmosphere, and really comfy seats, the only thing missing is Gunther himself.
The New Year
So Christmas is over, the mulled wine has been drunk, and you've nearly finished your January assignments. If you're in Chester for New Year's Eve you have to go to one of the parties that the clubs host. Cruise will be hosting a 007-themed party. With six rooms transformed into Bond's favourite global locations and a martini bar (shaken not stirred of course), you're sure to get so into the New Year's "spirit" that you'll think the Sky will Fall.
If you're stuck for things to do this January, Chester Zoo is only a 20 minute bus ride away. As students you can save up to 10% if you book early, so all you'll have to pay is £14.75. With their recently-opened Islands attraction that covers over 14 acres and takes over an hour to get through – and that's before you even consider the rest of the zoo – you'll surely get your money's worth!
Hickory's
Since it's close to the Bus Station, going to Hickory's is a great way to end (or begin) any day. You can find it down by the River Dee and is one of the best places in Chester for American and barbecue food, always guaranteed to warm you up on a cold day. From pancakes to ribs, there is amazing food at great prices, but the Baby Back Ribs are really incredible – sticky and succulent and a good size portion. Even though it's a steakhouse there are plenty of options for vegetarians, from Mac and Cheese to Vegetable Chili, so there are plenty of options for everyone.
During February, there'll be more going on in Chester than just rain…
The Smiths Indeed
For music lovers, The Smiths Indeed will be playing Telford's Warehouse on the 11th February. As a Smiths cover band, any fans of Morrissey will be sure to love this and with a sound that'll take you back to one of the golden ages of music, the 1980s, it's a must-see. Even though many of us weren't born when The Smiths were at their peak, The Smiths Indeed offer an amazing opportunity to witness what it might have been like to have seen them live.
Since their formation in 2005 they have gone from strength to strength and for only £12 you'll get to experience a performance that even Morrissey himself would be proud of. Telford's Warehouse is also an amazing pub with an even better bar so it makes for an amazing night – just don't fall in the canal.
Romantic Lunch
If you fancy a romantic lunch for Valentines Day, Beatons is perfect. It's a really quaint teashop overlooking the Cathedral. Saying that Beatons is a tearoom is an understatement, and with the large variety of teas, coffees and food available, there is little room to go wrong. The Strawberry Kiwi tea alongside the Bacon Bagel is always a winning combination in my book and the fact that it's super affordable makes it even better.
Food, Drink and Lifestyle Festival
Chester's Food, Drink and Lifestyle Festival will be taking place during 26th– 28nd March at Chester Racecourse and is an event loved by residents and students alike. From crepes to chilli, there is an ample variety of regional and national food and drink on offer.  There's also a Cocktail Bar, Coffee, and Wine Tasting! It's £8 for students but if you've got some money burning a hole in your pocket you can get a VIP ticket for £16 which means you'll receive a FREE glass of champagne and a £6 food voucher.
It's probably best to book early though and get a normal ticket for only £6, so you can then spend the rest on the amazing food that these culinary masters have produced. MasterChef judge and Strictly Come Dancing Star Greg Wallace will also be appearing. With over 30,000 people attending last year it is truly one of Chester's most anticipated events and it'd be a shame for you to miss out, especially since there'll be a gorgeous smell covering the entirety of the city.
The Walls
If you've still not had your fill, head on over to The Architect. Overlooking the racecourse, it's hard to miss. It's best to follow the Walls around to get there, not only would you be getting a tour of the Walls but you'll be able to treat yourself with a drink afterwards – and besides, it saves you from doing the Walls in your final year when you feel guilty for not doing it sooner. If you decide to go for a bite here it may be best to book as with it being near the racecourse it's very popular, especially on race days, but if you're just after a drink then you should be fine. With some of the Georgian architecture still intact it's easy to see why it's popular, and even though it's a bit more out of the way than the SU, the classic British and exotic influences of beers, wines and food help to appeal to any pallet.
Why not round off any night by visiting Coconut Grove, a South Indian Restaurant that is only a 5 minutes' walk from the train station. They're open till 11pm Mon-Sat so you can easily get a booking to fit your schedule. The service and atmosphere is phenomenal, with a modern décor it really is one of the best places in Chester for Indian food. With such a large menu you can be spoilt for choice but the Beef Biryani is always a winner and for £8.95 you can't go wrong. With its location you can easily get to the City's clubs afterwards, or if you've had enough it's only a 15/20 minute walk back to the University so you can either get a taxi back or you can walk off your meal.
Looking After Mum and Dad
While you're at Chester it's inevitable that at some point you will be playing host to family members, therefore you will need places to take them during their visit. There are two places that are guaranteed to put a smile on any parent's face: Hanky Panky Pancakes (HPP) and Café at the Walls (CatW). HPP is a cute little restaurant in the City Centre that specialise in, you guessed it, pancakes. They have both sweet and savoury pancakes, but if you ask me sweet pancakes are the way to go! It's down an alleyway on Bridge Street, so it's easy to miss but it is truly one of Chester's hidden gems. Loved by tourist and resident alike, the staff at HPP are really sweet and will help you with anything you need.
For something more traditional, CatW have a wide variety of sandwiches, Paninis and cakes available. You can find them by either going along the Walls or by going down the River Dee to see their charming café overlooking the river. They have 10% off for students and the staff are really nice and accommodating with any requests you might have regarding allergies etc.
Chester Students Charity Support
You know that stereotype that all students are lazy? Well not at Chester! Already, students got behind the University's Netball team to help them raise £1,225 for Macmillan Cancer Support, far surpassing their initial target of £750, while the Waterpolo players raised over £400 for Hope House Charity by doing a trek to the top of Snowdon in North Wales. Georgia Patterson, the Waterpolo Charity Officer, said that they were happy about their work and that they are looking forward to what they're going to accomplish throughout the rest of the year: 'As a team we are extremely proud of our fundraising achievement and the positive impact it will have for Hope Hospice Children's Hospice. Here's to more great fundraising throughout the year!'
But they're not stopping there: many more events have been planned for over the year, from the Football teams hosting a race night at Chester City FC Stadium to the Dance Society planning a Danceathon. The Vice President of Activities at the SU, Ethan Wade, said that they are proud of the work that all the students have put in and that they hope to surpass last year's successes: 'We […] are very pleased our sports and societies have hit the ground running.  Last year our sports and societies raised a total of £10,000 and we hope to raise even more this year!'
A truly magical city…
Yes Chester is small when compared to Liverpool or Manchester. There's no getting away from it, unfortunately. But that doesn't mean that there is not as much going on, I've only touched the surface on what Chester has to offer. It truly is a magical city and one that is easy to fall in love with. If there is something that you can't find in Chester, Crewe is only a 20 minute train ride away, Liverpool a 45 minute train ride, and Manchester 1 hour.