Coventry – City Guide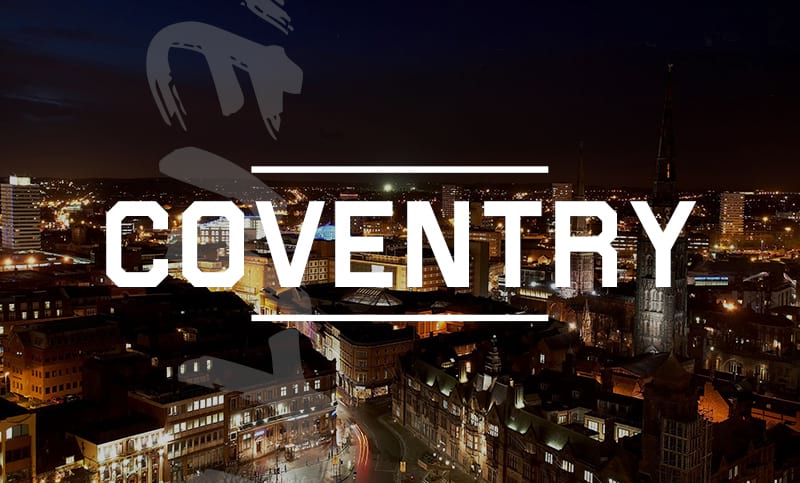 The City
"Coventry is a vibrant and forward-thinking city whose outstanding history and unrivalled heritage make it the perfect student spot."
The city has two universities, Coventry University and the University of Warwick, both of which attract hundreds of local and international students, take a look below to check out the best features of Coventry student life!
Things to do
Being a home to 33,000 students, Coventry has developed an outstanding reputation for its top-class events which include all year round performances, touring shows, food festivals and outdoor concerts from international artists.
There is always something for every taste: from cheap places to eat, to fascinating concerts and festivals taking place throughout the academic year.
When it comes to shopping, Coventry has a wide range of shops to choose from in the city centre. From all your high-street labels to independent retailers, you'll be spoiled for choice.
Fargo Village is an independent shopping centre and know n as the city's 'creative quarter'. It's the meeting place for local artists and designers and you'll be sure to find something quirky and a good cup of coffee.
Ricoh Arena is the home ground of premier league rugby club The Wasps, and also houses many famous faces for gigs and concerts.
Coventry has two main sport centres where you can purchase your month or year membership, giving you unlimited access to sport facilities such as a gym, personal trainer, and swimming pool.
The Coventry University student sport club is also a well-equipped facility that keeps you active. From squash to volleyball, it is your unique pass to staying fit and healthy. The Coventry Sports & Leisure centre is another great club for you and your friends; with the all-in-one membership you get all you need to relax and unwind.
The Skydome is a great place to visit. It's a big complex with a n indoor ice rink, Odeon cinema, nightclub and restaurants.
The city is also ideally located for day trips out. It's just 20 minutes away from Birmingham on the train, 40 minutes from Oxford, and an hour from London.  There's also lots to see and do in the surrounding countryside, such as Warwick Castle, Royal Leamington Spa, and Stratford Upon Avon
Arts & Culture
With so much going on, you'll always find soemthing cultural to enjoy.
The Herbert Art Gallery and Museum is a great place to go on a rainy day. Just next to the cathedral, it's easy to get to and hold many exhibitions throughout the year. You can also learn more about Lady Godiva, one of the most famous faces of the city.
Even if you're not a car fan, The Coventry Transport Museum is a must see. It is home to the fastest car on earth after all! The building has the largest collection of British transport in the world under one roof.
The Belgrade Theatre was the first civic theatre to be built in the UK after WW2 and it now show some of the biggest theatre shows touring the country.
Coventry Student Life, Music & Nightlife
Coventry and its locals know how to party so if you want to have that special evening or night for you and a friend, these modern, spacious bars and clubs are perfect venues.
Kasbah Night Club, located on Primrose Hill Street is an exciting venue which has served Coventry students for well over a decade. The regular nights include Poptastic, Kinky, and Groovy on Saturdays.
JJ's Night Club is based inside the Skydome and is open 5 nights a week, offering the ultimate party experience with themed parties from "Where's Wally" to "Jungle."
When it comes to pubs, there are plenty!
The Phoenix is located on the Far Gosford street and it is popular, hosting comedy and karaoke nights, as well as showing live formula 1, football, rugby and all kinds of other sports.
The Flying Standard, based on Bayley Lane, offers a variety of homemade pub classics at decent prices (think chicken pesto pasta – or chicken salad, for those on the diet).
Finally, the two ideal places for socializing are: The Quids Inn and The Spon Gate. They call them student hubs, not for learning but for socialising.
Eating Out in Coventry
Whether you're after a quick rest after studying during exam week, or a posh evening of fine dining and entertainment, Coventry provides an outstanding variety of eateries and captivating night life.
Serving food from around the globe, restaurants in the city will tickle your taste buds with their delicious, tasty dishes, Michelin star dining experiences and popular takeaways.
If you fancy grabbing a sandwich or jacket potato en route to the library, you should go to The Deli. This family-run sandwich place located in Coventry's student quarter offers fresh food, aromatic coffee and snacks.
Chi Bar is an Asian fusion restaurant and extremely popular with students. The food is fantastic and extremely cheap!
Conroy's is a great place to go the morning after. They do great omelettes, paninis and jacket potatoes, and nothing on the menu is over £5!
Even better, head to Playwrights for a great English breakfast or brunch.
And of course, don't forget about the Toby Carvery on Brinklow Road.