Hull – City Guide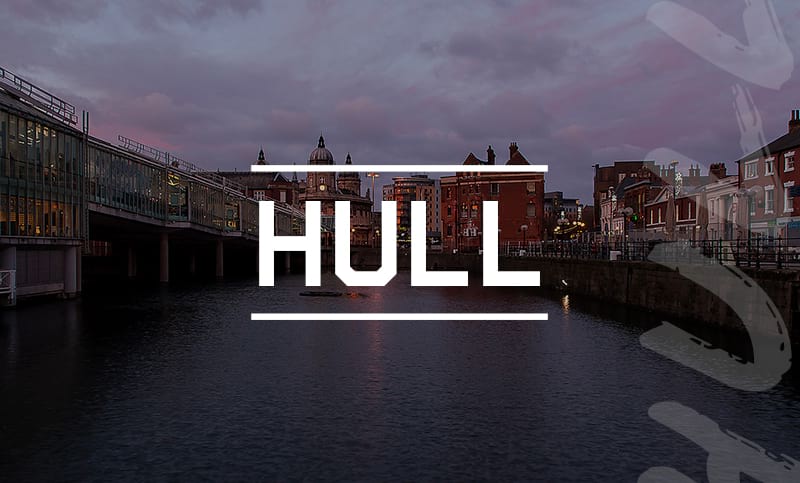 When searching for a University that did joint courses in Film and Creative Writing there weren't a great deal of options. A handful, in fact – but one of them was Hull. My Mum and uncle had already studied here, so it was a weird family tradition already, and my Mum insisted I put it as my first choice and told me how much of "a laugh" it was studying there. She was right, Hull is cheap, cheerful, friendly, down to earth, fun and easygoing.
And yet, I've seen a lot of prejudice towards Hull, 9 times out of 10 coming from people who have never been here. My friends from home who seem to think studying in Newcastle or Manchester is like swanning round Cambridge or the Sorbonne tell me Hull is nasty, dull and dangerous. And yet everybody who lives here loves it! Hull is our hidden gem, a secret place. No one 'ends up' here, you're either from here or you study here. It's untouched by concepts of 'cool', it has no grand illusions about itself, it is what it is. This is a big time for us too, with the upcoming City of Culture events in 2017. But you don't have to wait until then, there is already plenty of stuff to do and, uniquely, most of is cheap as chip spice. After all, it's 'Never Dull in Hull'.
Cult Cinema Sunday at Fruitspace
On the third Sunday of every month Fruitspace on Humber street hosts a movie night. They screen the movie, host a quiz, sell unique movie posters by local artists and usually have some food from Thieving Harry's on sale, as well as a bar. Movies are generally £4 in advance and £5 on the door, definitely a must-do for movie buffs and Film students like me who wanna write it off as studying (it counts, alright?).
Beverly Christmas Fair
Nearby picturesque town Beverly, only a short train or bus ride away, puts on an annual festive extravaganza with stalls, mulled wine, baby reindeer for cryin' out loud, street performers and plenty of local food and drink on offer.
The fair generally takes place in mid- December, but Beverly isn't a one-trick pony. It hosts a firework display and bonfire every year on the 5th November, with fairground rides, food and drink, and is simply a lovely town to escape to if you fancy a bit of peace and quiet away from the city. Hull is also close to Goth paradise Whitby and historical York – Yorkshire is your oyster! (Especially Whitby, they love their seafood over there).
Hull Student Union

Hull University has an award-winning union, putting on a three-week spectacular 'Welcome Fest' at the start of every year and a lavish End of Year Ball at… well, at the end of the year. There's a ton of societies to get involved with, from Ultimate Frisbee to The Real Ale Squad (note: they do not call themselves a 'squad').
Each Saturday is Brassick, the cut price, students-only night at on-campus nightclub Asylum.
Every Wednesday is Tower, a night favoured by societies. So if you want snakebite and people in strange-themed outfits this is perfect for you
The Union also has bars: Johnny Mac and Sanctuary. Sanctuary or 'Sanc' serves food all day and hosts a karaoke night every Thursday and a pub quiz every Sunday. All these venues can be booked for events and regularly host bands, comedians and other events, especially during RAG week. Speaking of which, I spoke to RAG Vice Prez Jennie Watts to hear about her experience as a student and events organiser, and what the future holds for Hull…
—
What got you involved with RAG?
RAG, for me, was a natural thing to get involved in. I think very highly of the charity sector and wanted to help in any way possible, when my friend told me about it in my second year I jumped at the opportunity. Who doesn't like to help people?
What event did you enjoy organising the most?
My favourite event to organise was definitely HUU does Take Me Out during freshers week of this year. It was enormously fun but also a great laugh on the night and I got to meet some incredible people – all for an incredible cause!
What do you love about Hull University? Why should people consider studying here?
I love the atmosphere of Hull Uni! Its fun and has a lot going on which everybody can get involved in. Come to Hull Uni because it's fun! It introduces you to new people from every walk of life and makes you appreciate it for that. You can't come to Hull and not love every second of it.
What ideas do you have for future RAG events?

RAG has huge ideas for future events! We've got Pointless on the cards, a fashion show, and we're even trying to organise The Chase, putting students up against their lecturers! There's loads coming and don't forget the amazing RAG week, raising money for Hull and East Yorkshire Mind. We're working very closely with Mental Health Awareness Society to bring you a week of incredible events and themed club nights and maybe even a PUPPY ROOM! #watchthisspace
Why should students support RAG?
We put on the events the students want for the charity the students elect at the start of each semester. Not only is RAG an amazing way to put on the event you want the way you want it but we will also help you to raise as much money as possible for the charity you believe in! RAG gives students the opportunity to improve the world they live in.
Businesses in Hull
I also spoke with A Different Hull, a local group that seeks to change the perspective on Hull in a tongue-in-cheek way. Their "Hull is where the heart is" and "Come to Hull it's not s*** anymore" t-shirts are immensely popular and they support local bands, venues and companies. Here's what they had to say about the City Of Culture
What makes Hull Unique?
The people. Hull gets a bad rep, but the people living here acknowledge it's one of the friendliest cities in the country. We're really lucky to have the 'city of culture' title – there's so much going on in the area, and now we get to share that with the rest of the world!
What makes Hull great for students?
The uni is great, obviously, but Hull is great for its social scene too. Hull being quite small is a huge benefit too…It's easy to find similar-minded people and join other local communities based on the things you love.
What makes A Different Hull so appealing to students?
Swearwords! Most people only know A Different Hull for its touristy appearance and humour.. when, in fact, we've got several community-based projects on the go. 'A Creative Hull' is a Facebook group for artists in the city to show their work to other like-minded souls, for example.
—
Down to Earth Feel, Down to Earth Price
Locals know that Hull has a lot to offer, all with a down-to-earth feel and equally down-to-earth prices you won't get elsewhere.
There are plenty of unique bars, cafés, restaurants and venues in Hull attracting both students and locals and adding a lot to its appeal.
Hull gets its cool from places like The Adelphi, the bar and venue that was the first home of The Housemartins/The Beautiful South and has hosted acts as big as Green Day and Pulp. It's hallowed ground for music fans and has quirky features like a bar that is literally the back of a bus.
Hull boasts a Museums Quarter that makes for a day out on its own and The Deep, the hugely popular Aquarium that became a must-visit when penguins were introduced.
Hull also has two major shopping centres, Princes Quay and St Stephens, both with Cinemas and regular student lock-ins offering major discounts.
It isn't all shiny and new – Hull also has 'Old Town', the olde-fashioned section of the city with cobbled streets and ancient pubs for when you fancy a more refined night out.
Newland Avenue, just a short walk from campus, is the centre of cafés and nightlife and an essential social hub for the discerning student. Home to student favourites like Pie 2, Planet Coffee and Roots Jamaican Bar, it's the place to get everything from a flavoured latte to a flaming zombie cocktail. It's also home to vintage shops, charity shops, greasy spoon cafés, cool cafés, The Piper club and a multitude of takeaways. Having all of these in one place makes it the perfect spot for students, with most living just a hop, skip and a jump away.
All in all, Hull is a misunderstood city with plenty to offer that is beloved by students and locals for its unique, laid-back vibe and cheap and cheerful appeal. This is a place where strangers help each other, taxis are dirt cheap, chips are spicy, ferries to Amsterdam run regularly and people are truly made to feel at home.
Just because it rhymes, doesn't mean it's dull!