Keele - City Guide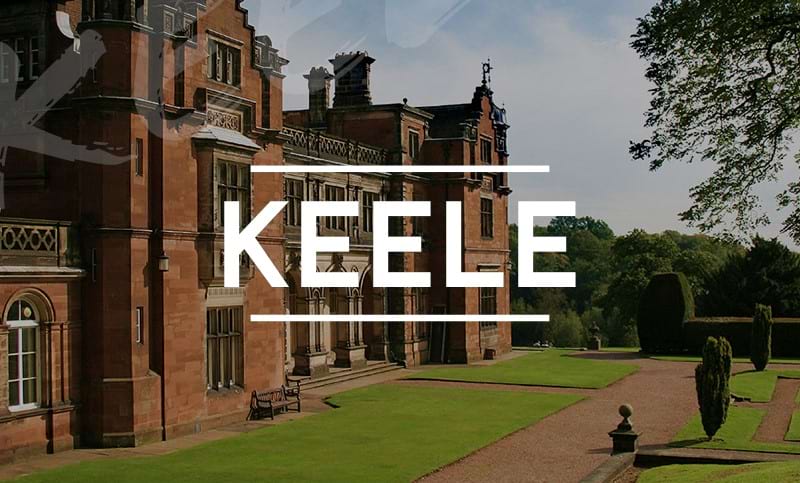 The City
"As the largest campus university in the country, Nestled in amongst woods, lakes and parklands between Manchester and Birmingham, you can expect to find all you could want 'in-house' at Keele."
Things to do in Keele City
There's really no reason to leave campus is there? Well, while it is reassuring to know that you have so much on the doorstep on campus, the locality is worth discovering.
Newcastle-under-Lyme is one of the main areas close to campus. It's a bustling 17th century market town which, despite its small size, has much to keep students occupied.
There's a variety of high-street shops for everything you'll need in Keele City, from independent boutiques to major high-street brands
A large Vue cinema with 8 screens is ideally situated in the centre of town so you'll never miss out on the latest blockbusters.
If you want to travel a little further afield, head into Stoke to see a Stoke City FC game. The SU sells cheap tickets for home matches and provide shuttle busses from the campus to the grounds.
If you can't find what you're looking for in Newcastle, in Stoke you will be able to find a pretty good shopping centre: intu Potteries.
If you fancy something completely different, there's Water World at Festival Park just 5 miles away from campus. It's a large indoor tropical aqua park, with the world's first water rollercoaster. A tip would be to avoid the crowds on weekends and school holidays. Stick to the off-peak times of Thursday 10.00-3.00pm and Friday 2.00-9.00pm. You'll have the place to yourself.
Or if you fancy something outside, Monkey Forest is also close by Keele City- a woodland where you can walk around 140 monkeys roaming free (they've even got new babies there at the moment).
Then there's Alton Towers, the UK's best known theme park where you can head off to with discounted tickets from the SU.
Newcastle comes alive over the two holiday weekends in May. Back when the pottery industry was in full swing, bank holidays represented a welcome relief from the daily grind. Now, locals have a tradition of making the most of them. The long-running carnival has now been replaced by the annual Newcastle Jazz & Blues Festival held over the May Day weekend.
Across the second Spring Bank Holiday weekend you will find The Lymelight Festival.
Arts & Culture
Famous for its pottery, Newcastle is brimming with art. 
Less than half a mile outside the town centre, and hidden behind Brampton Park is Brampton Museum where you can uncover over 2000 years of Newcastle history. It's the perfect place to take the parents when they come to check up on you!
The New Vic Theatre provides you with the best dramas, music concerts and even comedians. Check their website for the latest events taking place – there's always something interesting on!
If you want to head out a little further, make sure to check out Stoke-on-Trent where you can find  The Potteries Museum & Art Gallery in the city centre and Gladstone Pottery Museum in Longton. They're both really interesting and a great idea for when you want to escape campus on a rainy day..
Also, The Regent Theatre in Hanley is slightly bigger than the New Vic and sees West-End tours hitting the stage, as well as music, comedy and pantomime.
Music & Nightlife
In terms of nightlife, there's plenty to do on campus:
the two main venues, The Ballroom and k2, provide a varied programme of SU events and club nights to rival most universities.
Blueprint offers cocktails and it's a more 'traditional local pub' vibe you're after, you don't have to look further than The Scruffy Squirel.
But you probably know that already. And if you don't, you soon will. The best advice is to follow @KeelSU to keep up to date with what's on.
You can also head over to Newcastle if you want a good night out:
Bar Social and The Kiln are both worth a visit on The Square but if you want something a little bit different, a couple of 'Castle's best are a short walk away just off the High Street.  Students and locals mix freely and enjoy live music and club nights at The Full Moon Alehouse and Music Venue on Liverpool Road.
For dancing until the morning, Revs de Cuba have a wide range of DJs playing Tuesday-Saturday
The most popular nightclub in Newcastle is The Foyer  where on Wednesday and Thursday you can get a vodka mixer for less than £2!
Yates is a good place to head to for pre-drinks, it's cheap and even has a student night on Thursday.
In nearby Hanley, The Exchange Bar and Kitchen has a growing reputation locally. It's not a typical student hangout but despite its opulent décor, it offers reasonably priced – and very good – food, from sharing boards to steaks to burgers. There is a good ambience here too.
The Exchange in Stoke is doing its very best to reinvigorate the city's link with the scene. Their basement room regularly hosts dance music events.
Nearby, on Brunswick Street, is probably Stoke's best live music venue, The Sugarmill. The city does tend to get missed off the major gig circuit.  However, a vast range of smaller acts play here. It's a compact venue with a great atmosphere and a healthy mix of students and locals in attendance.
The Sugarmill's Electric Friday club nights are also worth checking out. The main room is the city's best indie/alternative night. In Room 2, there is a rolling programme covering a variety of genres. The first Friday of each month is hip hop and the second is billed as 'future sounds and the cult classics of tomorrow.'
Places To Eat
Newcastle City is the place to be. As a market town it benefits from having a selection of bars and eateries on, or just off, the main square.
Student Night Thursdays has just relaunched in the town. It's a collaboration between several bars and restaurants. You will be bombarded with cheap deals and special offers on food and drink, ranging from 'Oatcake and a brew' deals to dirt-cheap vodka shots.
Around the corner is The Old Brown Jug. This is one to watch; benefitting from a great layout with big tables perfect for large groups – and the best beer garden around. Now under new management, and determined to restore its status as the town's favourite for those in the know, Bar Manager Nikki said, 'We do a lot of cheap deals for students, including 9″ pizzas for £2.50. House music nights are fortnightly on Mondays and we'll be putting on more live bands in the New Year.
RAW Juice and Superfood Bar is unique to Staffordshire and sells a whole heap of superfoods to take away or eat in.
If you're looking for steak then look no further than Rare, located in the old Rectory Chambers. It serves the largest breakfast in Newcastle for just £5.95 and you can get lunch for just under a fiver.
Blakey's Cafe Bar do food during the day and turns into a wine bar/live music space in the evening. They also do some great cocktails for reasonable prices.