Kingston – City Guide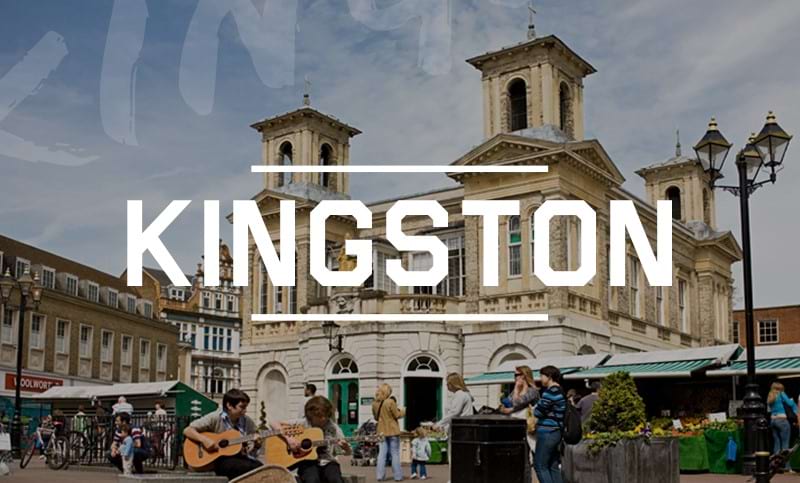 Shopping
At Christmas, Kingston goes all out, with markets and twinkling lights lining the town centre. The markets attract huge crowds each evening, with stalls selling everything from knick-knacks to Christmas decorations, hot chocolates to mulled wine, and hot food to sweet treats. Even if you don't buy anything, it's nice to wander around and get into the Christmas spirit.
Pubs
The Ram is a pub located along the Thames, near Kingston Bridge. Its chilled atmosphere makes it a great place to go after a stressful day at Uni. Grab a few friends and have a pint or two in the heated outdoor seating area, which is draped in fairy lights.
The Knights Park student bar is the best campus bar in Kingston, and the only place you'll get a double vodka for £2.50! They host live music nights, karaoke, society socials and loads more seasonal events. It has a cool atmosphere and it's a bar for Kingston University students only – making it the best place for a few cheap casual evening drinks after Uni or for pre-drinks before a big night out.
Clubs
There is a handful of great nightclubs in Kingston, which means you don't have to head into Central London every time you fancy a night out.
Pryzm is definitely the biggest club, but it is also the most expensive. If you want something more chilled and cheaper, The Library is the place to go. It may be small, but it is brilliant. It prides itself on being Kingston's only bar and nightclub, and is open Monday-Friday from 5pm till late. The drinks are cheap and the music is good; what more could you ask? Clear your Monday nights for Jager Rocks; £3 entry and 3 Jager Bombs for £4.50 all night.
The Viper Rooms is another student favourite, with free entry every Friday before 11pm. It opens at 5pm and serves really good cocktails at a reasonable price. So if you're after a classy evening, head to Viper's Bourbon Bar and enjoy a cocktail with a stunning view of the Thames.
Hippodrome hosts Old Skool Club Classics every Friday night, so if you feel like dancing to a bit of R Kelly this is the place to be. In connection with Kingston's Banquet Records, it has regular live music, hosting a range of artists from international touring bands to local singers, such as Gabrielle Aplin, Scouting for Girls, Foals and Bring Me The Horizon.
Food
Kingston University has a great catering service that provides the food for all the cafes dotted around the different campuses. If you just need a quick bite of lunch between lectures, there are sandwiches and salads to grab on the go, but they also do hot food like pizzas and curries.
Lana's Coffee House on Wheatfield Way offers really good cheap food. Their all-day breakfast for under a fiver is a must after a big night out.
When you're missing home and craving a home-cooked meal, Wetherspoons do Sunday Lunch with a pint of your choice for only £7. It may not be as great as my mum's roast, but it is definitely better than anything I could ever make.
If you fancy a night in, but can't be bothered to cook, the London Pizza Experts has a super offer with enough food to feed your entire flat for only £10.  There is also a Domino's in Kingston that delivers till 5am 7 days a week and always has offers for students.
Sports
If playing sports is your thing, there is no better place to take up rowing than when living in Kingston Upon Thames. The Kingston Rowing Club has a number of different squads, catering to newbies and experts of all ages. The students at the club host parties throughout the year, so if you fancy not only learning to row but also attending a boat party, grab an oar and get rowing!
The Students' Union at Kingston University runs all the other sports clubs, so if you want to be a Kingston Cougar, be sure to sign up to the sports teams at the Fresher's Fair or on its website. It really is all fun and games for the Kingston Cougars, who host a themed sports social on the first Wednesday of every month.
Travel
One of the main reasons I chose Kingston University, rather than one located in Central London, was because I could have the best of both worlds. Kingston is a student-friendly town, with students making up more than half of the population. It has a very chilled atmosphere yet is close to Central London and all its amazing opportunities.
Regular trains run from Surbiton to Waterloo and, depending on the service that day, the journey will take 40 minutes at most. From there, you have access to all the major Tube lines and other overground services. I usually buy a day travel card for £7.90 when using my 16-25 Railcard, giving me access to all overground and underground services in London that day. If you miss the last train home, or decide to have a night out in the city, the N87 night bus will take you back to Kingston.
What's going on?
The Library continues to host parties throughout 2016, such as the Great Gatsby Party, Masquerade Party, and Ladies Night. More live music is also planned for their Library Sessions.
The Hippodrome has more Indie Club Nights, and a Ministry of Sound Takeover coming up. For gig-goers, London-based band Savages, Irish 5-piece Walking on Cars and indie-rock band The Crookes are all booked to appear in 2016.
Kingston University hosts at least one "An Evening with…" event every month, where they invite a range of guest speakers to the university. In the past, they have had Katie Piper, but coming up they have novelist Francesca Kay and non-fiction writer Tom Sperlinger, to name a few.
There is always something happening in London. I'd recommend keeping up to date with the Kingston University Fresher's Facebook page, and apps like Fever, Dice and YPlan.
Best Thing about Kingston
Kingston is a student-friendly town, with such a chilled atmosphere that sometimes you forget you are living in London. However, when you want to be amongst the hustle and bustle of Oxford Street, a train will get you there in 40 minutes at most.
Worst Thing about Kingston
I have yet to find something I don't like about Kingston, which I think gives you a pretty good idea of what kind of a place it is.