Manchester – City Guide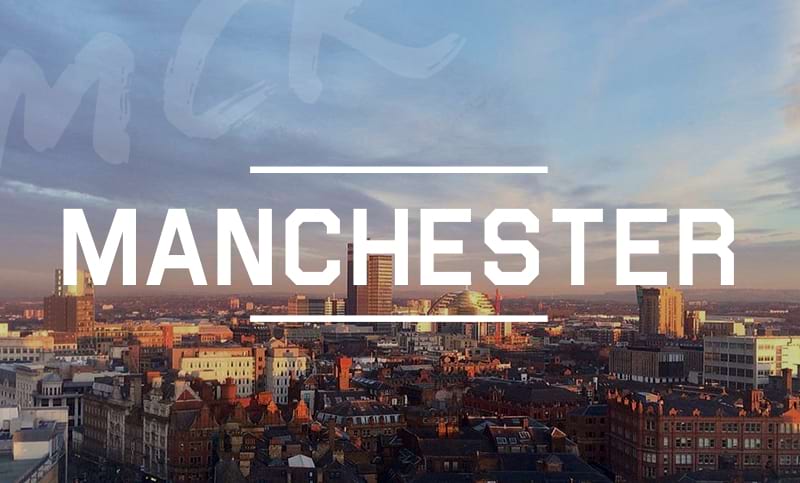 The City
"Manchester is pretty perfect; just imagine a smaller London, with a slightly edgy and hipster vibe minus the traffic and bank-breaking prices. It almost feels like it's made for students, and no matter what your passion in life is, be it sports, arts, food or just plain partying, Manchester has it all."
Growing from the roots of musical legends such as Oasis and The Smiths, you can't escape the incandescent charm of the city. Every day you can find something different to do and somewhere new to explore, and when the nights draw in, the city becomes a vibrant hub of concerts, clubs and bars. After all, there's a reason as to why it's constantly rated as one of the best student cities in the UK. Here's our Manchester student city guide so that you can get to know the city.
Things To Do
No matter what the weather looks like outside (and if it's not grey, then you're in the wrong city) there is always something to do in the capital of the north.
Manchester also has its very own Chinatown, where you can pick up some Chinese staples or indulge in your favourite eastern foods.
Sport is, of course, a massive part of the city's heritage.
Old Trafford and the Etihad Stadium are both within easy reach of the centre, and watching a game from either side will be a day to remember.
Make sure you also check out SportCity; originally the host of the 2002 Commonwealth Games, the place is now a venue for over 400 events every year.
Arts & Culture
Manchester is a hub of culture with over 20 museums across the city.
When it comes to art, Manchester has a lot to offer.
The Manchester Art Gallery puts on spectacular exhibitions all year round.
The newly refurbished Whitworth Art Gallery has a wonderful collection of modern art.
HOME is the city's centre for international contemporary art, theatre and film. It's a great place which is always buzzing with creativity and fun. Whether you want to watch a foreign film or listen to a talk about jazz, there's something for everyone here.
For you film and theatre buffs, you'll be sure the never miss a show
Can catch a movie at AMC on Deansgate, where you can see a film for under £6 (bring your student card!).
For the theatre lovers, The Palace Theatre and The Opera House are in the heart of the city, with tickets selling at just £11 for students. West end musicals such as Mamma Mia, Sister Act and Dirty Dancing are being performed this year with star studded casts.
Don't forget about the Lowry  which hosts smaller plays, dances and comedians throughout the year.
Music & Nightlife
Manchester holds some of the biggest gigs and concerts in the UK so when it comes to music, you have plenty of options:
Manchester Arena is the place to go to see all the major stars on their UK tours.
The smaller, more intimate Academy is also well worth a look. While generally smaller and less-known acts play here, there's often also some bigger acts showing their faces.
Night & Day hosts local and international up-coming bands. They've seen the likes of Artic Monkeys, Jessie J and Kasabian perform when they first started out.
The city is well known for its nightlife, with a whole host of clubs for every music type, and with different clubs holding student nights every day of the week, you will be sure to have a great night at a great price.
Get ready for Ibiza with a night in Sankeys 
Get your hit of RnB in Joshua Brooks on a Wednesday
Or grunge out in Factory 251 with three floors of varying music.
If you're looking for somewhere a little less grungy, than head over to Deansgate Locks, where you'll find a strip of clubs including Ark, Revolution and Lola Lo.
256 in Fallowfield is the home to Wednesday nights' sports socials
The Ram is a Fallowfield secret. Head there on a Tuesday night for Bandaoke (yes, exactly what it sounds like!)
Bongo's Bingo at Albert Hall happens every Tuesday night. You'll never go to a normal game of Bingo ever again!
If you want something a little bigger than your average night out, get tickets to The Warehouse Project. Only opening between September and January, this is the super-club of Manchester with sets last year from Skepta, Duke Dumont, Bonobo, Sigma, Skrillex and more.
Bars are also plentiful across the city, The Northern Quarter is probably one of the best areas to explore at night.
Best Places to Eat
You could probably eat out every day in Manchester and not go to the same place twice – there's an abundance of great places to try.
If you're looking for a curry, try out somewhere along the curry mile. 
Mugli is rated as one of the best
Ziya is especially good if you're looking for that authentic Indian taste.
The Northern Quarter is not only a place rammed with great bars, but also cool restaurants.
Try Cane and Grain, a place specialising in ribs and rum
Or El Capo, a Latin American street-food-restaurant and bar.
If you walk along Deansgate, you'll find an array of restaurants, one right after the other. 
Finally, if you want to stay in Fallowfield there's a great range of well-priced student secrets
Fallow is an unmissable student café and does the best breakfasts around
Dream Wok is the place to go for noodles (they do 2-4-1 after 8pm most nights)
Revs and Wetherspoons are also great places for a cheap dinner.