Student Accommodation
Melbourne
Melbourne. The coastal capital of Victoria, the south-eastern Australian state is widely regarded as the cultural capital of Australia and one of the world's most liveable cities. Here you can search and find student halls in Melbourne.
Search location
Select price
Student properties in Melbourne
3 results
Sort properties by selecting an option
Why use Accommodation for Students?
The widest choice of student accommodation available online
Quickly make direct contact with the property to view or book your accommodation
Established in 2000, home to reputable and safe student accommodation
Free and simple to use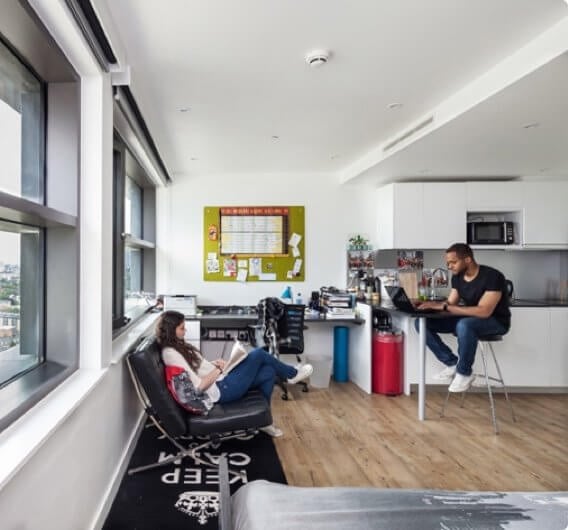 Living in Melbourne as a student
Whether you are studying in Melbourne already, or just about to head here for your first year – here's what you need to know when you are looking for student accommodation in Melbourne.
You are probably wondering where you are going to live while you are studying in Melbourne. Wonder no more as Accommodation for Students has that covered. We've got the student accommodation you need, within your budget, whatever university you decide to go to in Melbourne. Melbourne is home to 8 universities so you will be spoilt for choice! Whether you are headed to The University of Melbourne, Monash University, Deakin University, La Trobe University, Swinburne University of Technology, RMIT University, Victoria University or The University of Divinity, Accommodation for Students has all types of student accommodation available in Melbourne and the surrounding areas.
Some of the most popular places for students to live in Melbourne are:
Albert Park: One of the most serene areas of Melbourne, and only a 17-minute drive to the city centre, Albert Park is home to many of the cities' universities, including The University of Melbourne.
Brunswick: Known as the younger are of Melbourne thanks to the abundance of upbeat pubs and live music venues, Brunswick is a great area for students who are looking for affordable student accommodation.
Spotswood: Located next to the Yara River, Spotswood is a popular place for students to live thanks to it being close to both the Melbourne Institute of Technology and Melbourne City College.
St Kilda West: A short commute to the central business district in Melbourne but with a fantastic beach on its doorstep, St Kilda West is packed full of cafes, and is home to many live music festivals too.
Don't worry if your student accommodation isn't located close to your Uni in Melbourne, as there are plenty of ways to get around. The best way to get around is by tram as there are multiple routes available that criss-cross the city, and the trams operate throughout the day. There are also more than 300 bus routes in Melbourne that cover most of the suburbs as well.
It is also important for you to know that if you choose to study in Melbourne, you will never be bored. No matter what you are studying, or what you like to do in your spare time, Melbourne has plenty to offer you.
Art and Culture: Melbourne has a hub of historic theatres for you to choose from hosting world class musical and stage productions. You can also head to the arts precinct at South Bank to visit 5 art galleries in one space.
History and Heritage: You can visit the Koorie Heritage Trust and Banjolike Aboriginal Cultural Centre to find out more about the Indigenous Victorian Kulin clan, or head to the Old Melbourne Goal to hear harrowing stories of prison life.
Retail: There are plenty of shopping experiences for you to explore in Melbourne whether you are after fashion, jewellery, accessories, homewares or stationery – you will be spoilt for choice.
Whichever University in Melbourne you are studying at and wherever in Melbourne you want to live, check out our live list of all the student accommodation in Melbourne.
Melbourne Universities
City page description for Melbourne