Student Accommodation
Nottingham
A compact, student friendly city with two highly rated universities, Nottingham is a consistently popular place to study. Use our search engine to find your next student accommodation in Nottingham. Here you will find student houses, flats and halls.
Search location
Select beds
Select price
Are you a landlord looking to list a property? Register
Not sure what type of accommodation is right for you?
AFS always has the widest choice of student accommodation available. To help you find the right place to live, read our brief guide to the different types of accommodation below.
Why use Accommodation for Students?
The widest choice of student accommodation available online
Quickly make direct contact with the property to view or book your accommodation
Established in 2000, home to reputable and safe student accommodation
Free and simple to use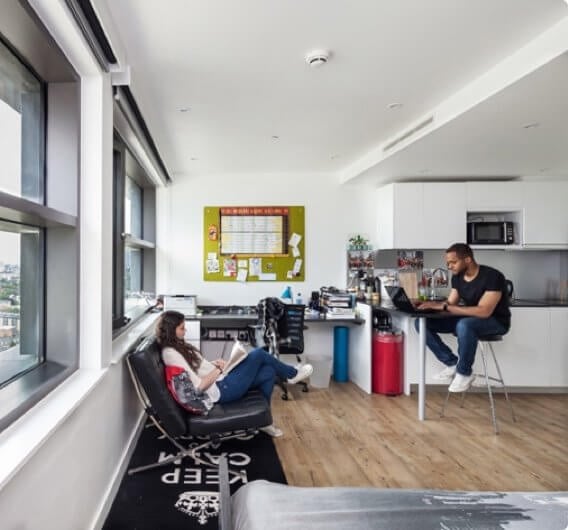 Living in Nottingham as a student
Nottingham offers a great location for students to live in with two very good universities in the city: they are the University of Nottingham and Nottingham Trent. With more than 50,000 students living in Nottingham - the city is home to one of the largest student populations in the UK - there are a lot of activities and attractions geared up to meet students' needs including a thriving nightlife scene.
While Nottingham is world-famous for Robin Hood and Sherwood Forest, it's also home to one of Europe's largest travelling fairs, Nottingham Goose Fair which is staged every October. The city also has excellent sports facilities and is home to the UK's National Ice Centre and the National Watersports Centre. There are also two football teams - Nottingham Forest and Notts County.
There's also lots of cultural activity, museums and parks for students to enjoy including a very good Christmas market in the city centre and a wide range of restaurants and bars. Nottingham has good links to the rest of the UK and for many students living there, including a large number of students from overseas, it is an ideal location that's not too small and not too large as a city for them to enjoy.
Getting around this compact city is easy too, with a city wide Bike hire  and a great Bus service . The Train station is located right in the heart of the city for thos longer journeys.
Popular student areas include;
Lenton is an ideal hub for students due to its close proximity to the University of Nottingham, vibrant social scene, and a wide array of affordable housing options.
Lacemarket attractive to students for its rich history, unique blend of indie shops, thriving creative scene, and its proximity to Nottingham Trent University, fostering a lively, student-friendly atmosphere. The city centre is a viable option for many students, being close to Nottingham Trent and for those that are happy to commute to the University campus.
Castle boulevard is an appealing choice for students with its stunning views of Nottingham Castle, easy access to the city centre, and a diverse range of local shops, cafes, and restaurants, offering a balanced student life..
Here you will find details of private rented accommodation offered by private landlords/letting agents in Nottingham including: student houses, student flats/apartments in Nottingham, bed-sits in Nottingham and private halls in Nottingham.
Frequently Asked Questions
Are you going to live and study in Nottingham? Here are the most frequent questions asked by other students.
Most students look for shared housing in Nottingham from October, although there will be student accommodation available all year round. First year and international students generally start looking in January for halls of residence.
The amount you pay will depend on the type of student accommodation you choose. A shared house in Nottingham will cost you £100 per week. A halls of residence will cost, on average £137 per week, but could cost more depending on what type of room you select.
Accommodation for Students has the widest range of student accommodation currently available in Nottingham. This includes
halls of residence
,
house shares
,
flats and apartments
. You can enquire directly to your chosen accommodation or get more support through our live help team.
AFS has accommodation across the whole city including Dunkirk and Radford.
In Nottingham the standard length of contract is 46 weeks. However it is possible to have a longer or shorter agreement than this. Some halls of residence will only offer a 50 or 52 week tenancy agreement for example.
Yes, a selection of the student accommodation listed on AFS will offer short term stays. This is most often the case for halls of residence in Nottingham. Look out for the properties which have the short term let badge or filter your search by 'letting period'.
This will depend on the type of property you choose. The most anyone can legally charge is 5 weeks rent. Some accommodation in Nottingham halls of residence will not require a deposit at all, while on average the deposit in a shared house in Nottingham will be £400.
All landlords and property managers in Nottingham are legally required to protect your deposit in a legally recognised tenancy deposit scheme. If you take care of your student accommodation you should have no problem getting your money back. You can check out some further information
right here.
Nottingham Universities
Nottingham is home to both Nottingham Trent University and The University of Nottingham.