Birmingham – City Guide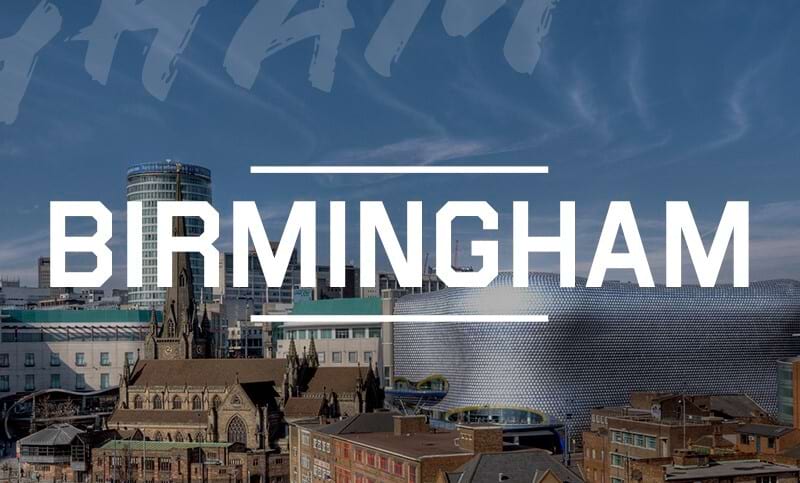 The City
Welcome to Birmingham, a thriving hub of multicultural activity and officially the UK's second city – don't you let those pesky Mancunians tell you any differently! Home to a lively music scene, quirky bars, many a museum, and not to mention the perfect place for a curry; good old Brum has something for everyone.
If you're new to this city, this guide will tell you all you need to know – don't waste your time constantly promising yourself you'll visit Cadbury World and then never actually get round to it- there is so much more to do!
And if you've lived here for years, you've probably fallen into the trap of moaning about it just because it's the trendy thing to do nowadays, so let this guide rekindle your flame for this wonderful city and all that it has to offer.
Things To Do
Take a canalside stroll: Birmingham has more miles of canal than Venice, so I can guarantee you won't run out of routes to explore. Taking a path that ends up in Brindley place or by the Mailbox is recommended, so that you can go somewhere nice to eat after using up all of that energy!
See some impressive street-art: Digbeth is known as Birmingham's creative quarter, and it's home to the annual City of Colours festival! Any time of year though, it's the perfect place to have a wander and admire some outstanding works by various great street artists.
Visit Birmingham Library: The architecture itself is cool enough; but inside you'll find that it's a very exciting place to explore. Make sure to visit the roof-top garden for a great view of this ever-developing city!
Shop til' you drop: Even though we are on a student budget, we all love to have a good old shopping session from time to time, and with the recently blossomed Grand Central, the Bullring, the indoor and outdoor markets, and the Great Western Arcade; it's safe to say Birmingham is a shopper's paradise.
Step back in time: 'Birmingham Back-to-Backs' is a restored 19th-century courtyard of working people's houses; visit and you can glimpse for yourself what life was like for them back then in the heart of this city. Don't miss the 1930s sweet shop!
Arts and Culture
If museums and art galleries are your jam, you're in luck – this city is full of them!
Cinema-goers, you are also spoilt for choice.
As well as the big classics like Vue, the Odeon(s), and of course Cineworld with its big old IMAX, there are also a couple of quirkier ones.
There's The Everyman, which will serve delicious food to your sofa-seat while you relax and enjoy the film, and The Electric – the UK's oldest working cinema.
Music & Nightlife
You can't mention Birmingham's music scene without first a nod to The Symphony Hall, home to the CBSO (City of Birmingham's Symphony Orchestra) and the place to be if you enjoy classical music events.
To see all the big names touring the Midlands, the best live music venues are the Genting Arena, the Barclaycard Arena, and the 02 Academy.
But for smaller, fresher live music, alt-acts, and comedy shows, there is a whole list of potential great nights, including The Rainbow, The Jam House, Hare & Hounds, and The Flapper.
If you fancy a drink, Birmingham is also full to the brim with pubs and bars! There are plenty to discover, but I'll let you in on some of the quirkiest ones…
The Jekyll & Hyde is a Victorian gin parlour, with a 'Wonderland Courtyard', that serves indulgent, sweet-topped cocktails.
Nestled away underground, Bacchus bar is perfect for enjoying an ale in a merry, atmospheric setting.
Another, seemingly traditional, pub is The Prince of Wales in Moseley, but it has a secret; a hidden, exotic Mo-Tiki bar!
When it comes to clubbing, there are lots of big-name clubs are on Broad Street
Places to Eat
Birmingham is full of places to eat.
If you're a UoB student, campus has many lunch options including Joe's Bar (check out their infamous University Challenge dessert). Plus, there's the farmer's market on campus once a month where you can try exotic food such as ostrich burgers.
A hidden gem for a cheap lunch in the centre is a shop called Eat4less. It's a two-minute walk from New Street Station, and you can get jacket potatoes, baguettes, and Paninis in a lunch deal (including chips and a drink) for under £2!
If it's a Birmingham Balti you're after, you don't have to travel very far.
With many curry houses in Selly Oak offering amazing deals and a BYOB alcohol policy, you're guaranteed a full stomach for under a tenner.
One thing Foodies definitely shouldn't miss is Digbeth Dining Club, every Friday evening, without fail, this amazing event allows visitors to sample all sorts of street food and artisan snacks, and, with something different each week, there's no chance of ever getting bored!