Student Accommodation
Birmingham
With five universities and 65,000 students, this dynamic, well-located city remains a popular place to study. Find all types of student accommodation in Birmingham, including studios, houses, flats, and halls.
Search location
Select beds
Select price
Are you a landlord looking to list a property? Register
Not sure what type of accommodation is right for you?
AFS always has the widest choice of student accommodation available. To help you find the right place to live, read our brief guide to the different types of accommodation below.
Why use Accommodation for Students?
The widest choice of student accommodation available online
Quickly make direct contact with the property to view or book your accommodation
Established in 2000, home to reputable and safe student accommodation
Free and simple to use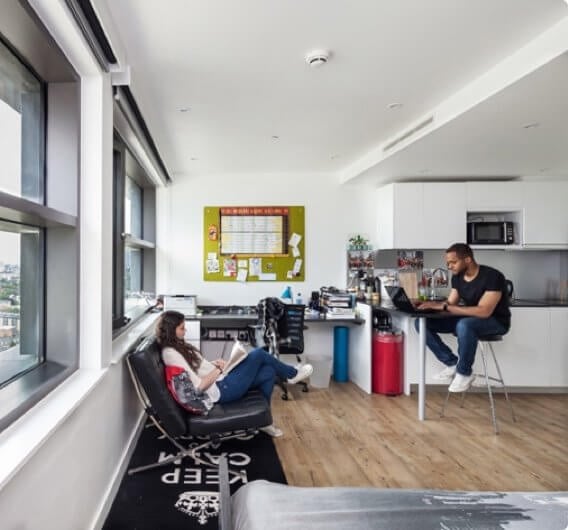 Living in Birmingham as a student
Birmingham is the second-largest city in the UK, with around 1,070,000 – meaning finding student accommodation in Birmingham can be a bit of a task. After all, Birmingham isn't short of higher education establishments – you have the University of Birmingham, Birmingham City University, and Aston University, plus two university colleges: University College Birmingham and Newman University College.
You will probably be relieved to hear that there are actually a lot of choices when it comes to student accommodation in Birmingham – and the options available are amongst some of the most affordable and cheapest in the whole of the UK. Many of the student accommodation we have on our website is located close to Birmingham City University and the University of Birmingham – with the centre of Birmingham only being a few bus stops away.
A quick search for university accommodation in Birmingham shows a wide range of options available, from budget-friendly studio apartments to shared houses – all of which are value for money. There really is something to suit everyone. You can choose from a wide range of suitable student properties in Birmingham, at a reasonable price, with comfort guaranteed.
Birmingham has such a wide range of higher education establishments means that it also has a large student population – around 80000 students call Birmingham their home. This number is growing all the time. This is another reason why student accommodation is so plentiful in Birmingham. The city wants to ensure all its students are safely housed in affordable locations that are well connected to the surrounding area, thanks to excellent public transport links.
Student Travel in Birmingham
Talking about student travel in Birmingham, you'll be pleased to hear that Birmingham has a massive selection of travel options, including buses, trains, and trams. This is great news as most of the student accommodation is located around the city, but you can quickly get anywhere you need to go with the help of the public transport system (which is excellent value for money). There are also plenty of cycle lanes and pedestrian crossings, making it easy to get around under your own steam.
Popular student locations in Birmingham
There are three main areas where students tend to live in Birmingham, and these are:
• City Centre. As with most major cities, many student accommodations are located around the city centre – although, in Birmingham, they tend to be reasonable value for money. There are loads to keep you entertained as well, from world-class shopping at the Bullring mall to live comedy at the Comedy Loft, or you can dance the night away at the Flapper
• Digbeth. Digbeth's cool and quirky quarter is behind the iconic Selfridges building, and it's steeped in industrial history. Some of the best independent businesses in the city have their home here and Digbeth Dining Club.
• Selly Oak. Slightly out of the city centre, about a 15-minute train ride actually, Selly Oak is popular with students. It is where the main campus of the University of Birmingham is located. It is also home to the Battery Retail Park and has some great pubs and green spaces to keep you entertained
Things for Students to do in Birmingham
There are many things to do in Birmingham when you're not in lectures! Birmingham is home to two fantastic museums, full of art and other exciting things – one is the Birmingham Museum and Art Gallery, and the other is the Barber Institute of Fine Arts. Birmingham also boasts an eclectic nightlife, with many bars, clubs, and pubs to cater to all tastes. The variety of food available here is also wide, with flavours from Australia to Turkey to tickle your tastebuds.
So, if you are a student studying at Birmingham City University North campus or Newman University, check out the student accommodation we have that is close to the city's excellent transport networks. Explore the different properties we have available and get the best out of your university experience with Accommodation for Students.
Frequently Asked Questions
Are you going to live and study in Birmingham? Here are the most frequent questions asked by other students.
Most students look for shared housing in Birmingham from October, although there will be student accommodation available all year round. First year and international students generally start looking in January for halls of residence.
The amount you pay will depend on the type of student accommodation you choose. A shared house in Birmingham will cost you £93 per week. A halls of residence will cost, on average £176 per week, but could cost more depending on what type of room you select.
Accommodation for Students has the widest range of student accommodation currently available in Birmingham. This includes
halls of residence
,
house shares
,
flats and apartments
. You can enquire directly to your chosen accommodation or get more support through our live help team.
AFS has accommodation across the whole city including Selly Oak and Solihull.
In Birmingham the standard length of contract is 46 weeks. However it is possible to have a longer or shorter agreement than this. Some halls of residence will only offer a 50 or 52 week tenancy agreement for example.
Yes, a selection of the student accommodation listed on AFS will offer short term stays. This is most often the case for halls of residence in Birmingham. Look out for the properties which have the short term let badge or filter your search by 'letting period'.
This will depend on the type of property you choose. The most anyone can legally charge is 5 weeks rent. Some accommodation in Birmingham halls of residence will not require a deposit at all, while on average the deposit in a shared house in Birmingham will be £372.
All landlords and property managers in Birmingham are legally required to protect your deposit in a legally recognised tenancy deposit scheme. If you take care of your student accommodation you should have no problem getting your money back. You can check out some further information
right here.
Birmingham Universities
Birmingham is home to five universities, including Aston University, Newman University and Birmingham City University.