Student Accommodation
Sheffield
Sheffield is a trendy red brick university city as it is highly affordable and has two well-established universities. Here you will find student accommodation in Sheffield, including student houses, flats, and halls.
Search location
Select beds
Select price
Are you a landlord looking to list a property? Register
Not sure what type of accommodation is right for you?
AFS always has the widest choice of student accommodation available. To help you find the right place to live, read our brief guide to the different types of accommodation below.
Why use Accommodation for Students?
The widest choice of student accommodation available online
Quickly make direct contact with the property to view or book your accommodation
Established in 2000, home to reputable and safe student accommodation
Free and simple to use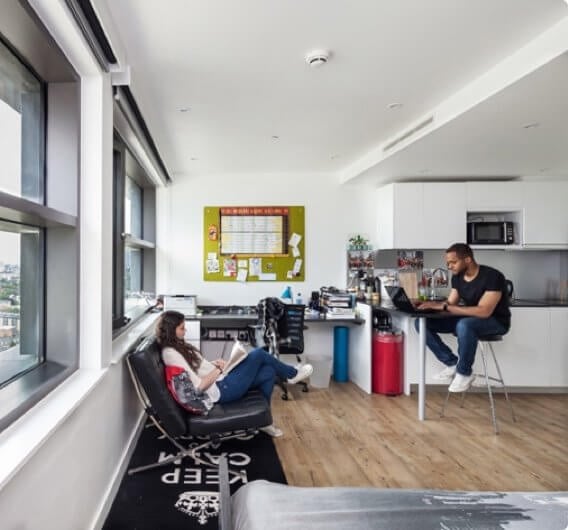 Living in Sheffield as a student
Sheffield is famous for being the City of Steel. Whether you are studying in Sheffield already or are heading here for your first year – here's what you need to know when you are looking for student accommodation in Sheffield:
You're probably wondering where you're going to live while studying in Sheffield. Well, Accommodation for Students has got that covered. From 1 bed studios and flats to 4-bed houses and Student Halls, we've got the accommodation you need within your budget – whatever University in Sheffield you go to. Whether you're headed to The University of Sheffield, Sheffield Hallam University, or The Sheffield College, Accommodation for Students has a wide array of student accommodation available in Sheffield and the surrounding areas.
Some of the most popular places for students in Sheffield to live are:
Broomhill: Within walking distance of the University of Sheffield's student village, Broomhill is popular with students wanting to live in private housing near pubs and shops.
Crookes: You'll be hard-pressed to find someone who isn't a student living in Crookes – it is a bit of a student bubble, after all. Thanks to the proliferation of hills, you'll get fit if you choose to live here anyway.
Eccleshall Road: Popular with Sheffield Hallam University students thanks to its location, Eccleshall Road is packed full of independent shops, restaurants, and cafés, making it the perfect spot for weekend brunch.
Sheffield City Centre: Like with any other city centre, Sheffield city centre is more expensive to live in but is closer to the bulk of Sheffield's bars, clubs, restaurants, and shops.
Ranmoor: If you're not a city lover and want to live somewhere greener, then head to Ranmoor, which is only a short bus ride away from the beautiful peak district.
Don't worry if your student accommodation is not located very close to your Uni in Sheffield; there are many ways to get around. Sheffield's public transport is made up of buses, trains, and trams with various travel pass options available on each.
It's also important to know that you will never get bored when you come to study in Sheffield. No matter what you are into or what you are studying, there is something here for everyone to enjoy:
Art & History: The Millenium Gallery is one of the most visited free attractions in the North of England, offering the chance to see some of Sheffield's unique heritage close up.
Heritage & History: Sheffield has a similar history to Manchester. It played a major part in the industrial revolution of the 1900s, so the Abbeydale Industrial Hamlet and Kelham Island Museums are both must-sees.
Food and Drink: Sheffield is home to many familiar national chains we all know and love, but they have a thriving independent scene. It is the birthplace of the UK's craft beer revolution as well.
Retail: Sheffield has an independent spirit reflected in its retail scene, and so it is home to many quirky shopping districts that you will want to explore. Don't worry though, there are plenty of high street shopping opportunities.
Sports: Home to the English Institute of Sport, Sheffield has plenty of sporting activities – from catching a football game played by Sheffield United or Sheffield Wednesday to watching the Sheffield Steelers on ice.
Wherever you are studying in Sheffield, and wherever you want to live, check out our live list of all of the student accommodation in Sheffield – from flats and studios, to student halls and houses.
Frequently Asked Questions
Are you going to live and study in Sheffield? Here are the most frequent questions asked by other students.
Most students look for shared housing in Sheffield from October, although there will be student accommodation available all year round. First year and international students generally start looking in January for halls of residence.
The amount you pay will depend on the type of student accommodation you choose. A shared house in Sheffield will cost you £86 per week. A halls of residence will cost, on average £138 per week, but could cost more depending on what type of room you select.
Accommodation for Students has the widest range of student accommodation currently available in Sheffield. This includes
halls of residence
,
house shares
,
flats and apartments
. You can enquire directly to your chosen accommodation or get more support through our live help team.
AFS has accommodation across the whole city including Highfield and Broomhill.
In Sheffield the standard length of contract is 46 weeks. However it is possible to have a longer or shorter agreement than this. Some halls of residence will only offer a 50 or 52 week tenancy agreement for example.
Yes, a selection of the student accommodation listed on AFS will offer short term stays. This is most often the case for halls of residence in Sheffield. Look out for the properties which have the short term let badge or filter your search by 'letting period'.
This will depend on the type of property you choose. The most anyone can legally charge is 5 weeks rent. Some accommodation in Sheffield halls of residence will not require a deposit at all, while on average the deposit in a shared house in Sheffield will be £344.
All landlords and property managers in Sheffield are legally required to protect your deposit in a legally recognised tenancy deposit scheme. If you take care of your student accommodation you should have no problem getting your money back. You can check out some further information
right here.
Sheffield Universities
Sheffield is home to both Sheffield Hallam and The University of Sheffield.