Student Accommodation
Wolverhampton
A popular and centrally located destination, with the 20,000 student strong University of Wolverhampton central to the City. Here you will find all types of student accommodation in Wolverhampton including student houses, flats and halls.
Search location
Select beds
Select price
Student properties in Wolverhampton
2 results
Sort properties by selecting an option
Are you a landlord looking to list a property? Register
Not sure what type of accommodation is right for you?
AFS always has the widest choice of student accommodation available. To help you find the right place to live, read our brief guide to the different types of accommodation below.
Why use Accommodation for Students?
The widest choice of student accommodation available online
Quickly make direct contact with the property to view or book your accommodation
Established in 2000, home to reputable and safe student accommodation
Free and simple to use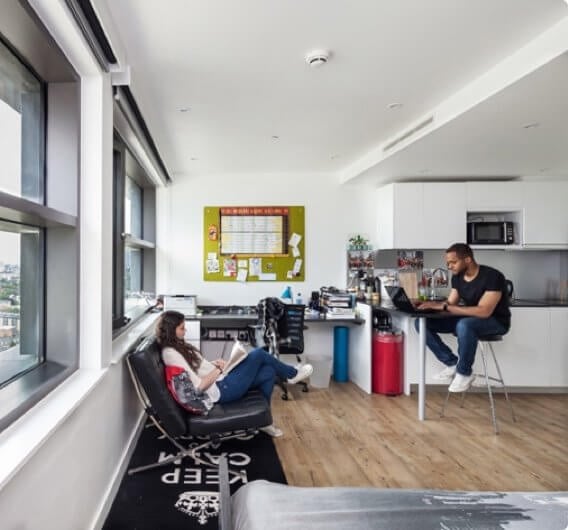 Living in Wolverhampton as a student
A popular and centrally located destination, with the 20,000 strong University of Wolverhampton central to the city.
The University of Wolverhampton's history can be traced back to 1935. They offer over 500 courses across 18 schools and institutes, and it can boast 96% graduate employability (as seen in the 2017 Destination of Leavers of Higher Education survey 2017). It is perhaps most well-known for its research community, which led to them being awarded a £2 million investment from the Research Excellence Framework in 2014.
Wolverhampton is also a hotbed for music, with groups such as Babylon Zoo, Cornershop and Slade hailing from here. Liam Payne, from One Direction fame, also hails from Wolverhampton. Unsurprisingly then, Wolverhampton is home to lots of live music venues such as Wolverhampton Civic Hall and Wulfrun Hall. There is also an arty side to Wolverhampton, which can be seen in its recent 'Wolves in Wolves' exhibition which saw over 30 statues of wolves being placed in various buildings, parks and streets. There are two large theatres in Wolverhampton as well, the main one being The Grand Theatre. For the film lovers amongst you, there are three cinemas to choose from including a large Cineworld at Bentley Bridge.
Wolverhampton is represented in the Premier League by Wolverhampton Wanderers FC – also known as 'Wolves'. They were actually one of the 12 founding members of the Football League. There are several other non-league football clubs in Wolverhampton as well. Athletics is quite popular in the area, with two Olympic medallists living in the city. Other popular sports include cycling, greyhound racing, horse racing, and motorsports. Students in Wolverhampton can expect a wide range of food and drink to be available to them as well, with many bars and pubs running student nights. Although there is only a small city centre in Wolverhampton, there are plenty of restaurants and cafes to choose from, and the welcome will always be warm.
Here you will find lots of student accommodation in Wolverhampton including student houses, flats and halls.
Frequently Asked Questions
Are you going to live and study in Wolverhampton? Here are the most frequent questions asked by other students.
Most students look for shared housing in Wolverhampton from October, although there will be student accommodation available all year round. First year and international students generally start looking in January for halls of residence.
The amount you pay will depend on the type of student accommodation you choose. A shared house in Wolverhampton will cost you £80 per week. A halls of residence will cost, on average £98 per week, but could cost more depending on what type of room you select.
Accommodation for Students has the widest range of student accommodation currently available in Wolverhampton. This includes halls of residence, house shares, flats and apartments. You can enquire directly to your chosen accommodation or get more support through our live help team. AFS has accommodation across the whole city including Whitmore Reans and West Park.
In Wolverhampton the standard length of contract is 46 weeks. However it is possible to have a longer or shorter agreement than this. Some halls of residence will only offer a 50 or 52 week tenancy agreement for example.
Yes, a selection of the student accommodation listed on AFS will offer short term stays. This is most often the case for halls of residence in Wolverhampton. Look out for the properties which have the short term let badge or filter your search by 'letting period'.
This will depend on the type of property you choose. The most anyone can legally charge is 5 weeks rent. Some accommodation in Wolverhampton halls of residence will not require a deposit at all, while on average the deposit in a shared house in Wolverhampton will be £320.
All landlords and property managers in Wolverhampton are legally required to protect your deposit in a legally recognised tenancy deposit scheme. If you take care of your student accommodation you should have no problem getting your money back. You can check out some further information right here.
Wolverhampton Universities
Wolverhampton is home to the main campus of Wolverhampton University.
Accommodation in Wolverhampton