Student Accommodation
Bangor
Recently rated top in Wales for teaching excellence, Bangor University continues to be a popular choice with students studying in Wales. Here you will find student accommodation in Bangor, including student houses, flats, and halls.
Search location
Select beds
Select price
Are you a landlord looking to list a property? Register
Not sure what type of accommodation is right for you?
AFS always has the widest choice of student accommodation available. To help you find the right place to live, read our brief guide to the different types of accommodation below.
Why use Accommodation for Students?
The widest choice of student accommodation available online
Quickly make direct contact with the property to view or book your accommodation
Established in 2000, home to reputable and safe student accommodation
Free and simple to use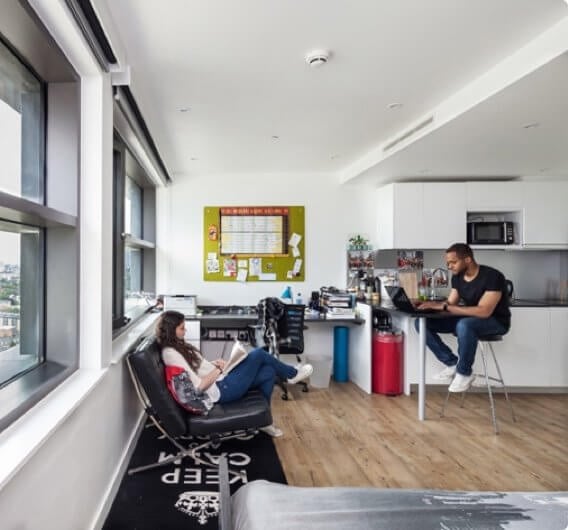 Living in Bangor as a student
Bangor is the oldest city in Wales and home to some of the most stunning scenery in the UK. Whether you are studying in Bangor already or are heading here for your first year and here is what you need to know when you are looking for student accommodation in Bangor:
You're probably wondering where youíre going to live while youíre studying in Bangor. Well, Accommodation for Students has got that covered. From studios to flats and houses and even Student Halls, weíve got the accommodation you need within your budget and whatever your preference is while studying at the University of Bangor. Accommodation for Students has many student accommodations available in Bangor and the surrounding areas.
Some of the reasons why students in Bangor love living here are:
The Seaside: Wherever you are in Bangor, you are only a short walk away from fantastic sea views as Bangor sits on the Menai Straits.
Mountains: You are close to the sea in Bangor, but you are also close to the mountains. Grab your hiking boots and go walking, climbing, or even abseiling!
Castles and Manor Houses: Bangor is packed full of castles and historic manor houses, with both Penrhyn Castle and Caernarfon Castle being close by.
Beaches: We've already mentioned that Bangor is close to the sea, but it also has plenty of Instagram-worthy beach spots to make all your mates jealous.
Don't worry if your student accommodation is not located that close to your Uni in Bangor; there are plenty of ways to get around. Bangor public transport is made up of buses and trains with various travel pass options available on each. You could also save money by walking or cycling.
It is also important to know that you will never get bored when you come to study in Bangor. No matter what you are into or what you are studying, there is something here for everyone to enjoy:
Hereís our list of top things to do in Bangor ñ when youíre not studying, of course:
Penrhyn Castle - This 19th-century neo-Norman castle is crammed with fascinating things to gawp at, such as a one-ton slate bed that was made for Queen Victoria
Cem Idwal Nature Reserve - The first officially recognised National Nature Reserve in Wales and a favourite spot of Charles Darwinís
Neuadd Ogwen - A concert hall and community art centre featuring live music, films, theatre performances, comedy, classes, workshops, and social events
Garth Pier - Home to some of the best views in Wales with Anglesey in front of you and Menai Bridge and Llandudno on either side. There are lots of pretty little Victorian Kiosks on the pier filled with things to entertain you and a lovely cafe at the end.
Lon Las Ogwen - Excellent hiking trail that goes all the way from Bangor to Llyn Ogwen via an old railway line, making it perfect for both walking and cycling
Britannia Bridge - Originally designed and built by Robert Louis Stephenson as a tubular bridge for carrying rail traffic, but was rebuilt after a disastrous fire in May 1970
Storiel Art Gallery and Museum - based in the centre of Bangor, and also featuring a great cafÈ and gift shop!
Cad Eirian Cathedral - The site of the present building has been in use as a place for Christian worship since the 6th Century.
Wherever you are studying in Bangor, and wherever you want to live, check out our live list of all of the student accommodation in Bangor ñ from flats and studios, to student halls and houses.
Frequently Asked Questions
Are you going to live and study in Bangor? Here are the most frequent questions asked by other students.
Most students look for shared housing in Bangor from October, although there will be student accommodation available all year round. First year and international students generally start looking in January for halls of residence.
The amount you pay will depend on the type of student accommodation you choose. A shared house in Bangor will cost you £86 per week. A halls of residence will cost, on average £159 per week, but could cost more depending on what type of room you select.
Accommodation for Students has the widest range of student accommodation currently available in Bangor. This includes
halls of residence
,
house shares
,
flats and apartments
. You can enquire directly to your chosen accommodation or get more support through our live help team.
AFS has accommodation across the whole city including Aberffraw and Hirael.
In Bangor the standard length of contract is 46 weeks. However it is possible to have a longer or shorter agreement than this. Some halls of residence will only offer a 50 or 52 week tenancy agreement for example.
Yes, a selection of the student accommodation listed on AFS will offer short term stays. This is most often the case for halls of residence in Bangor. Look out for the properties which have the short term let badge or filter your search by 'letting period'.
This will depend on the type of property you choose. The most anyone can legally charge is 5 weeks rent. Some accommodation in Bangor halls of residence will not require a deposit at all, while on average the deposit in a shared house in Bangor will be £344.
All landlords and property managers in Bangor are legally required to protect your deposit in a legally recognised tenancy deposit scheme. If you take care of your student accommodation you should have no problem getting your money back. You can check out some further information
right here.
Bangor Universities
Bangor is home to one major university.