Student Accommodation
Wrexham
Study at Wrexham Glyndwr University in one of the largest towns in Wales.Searh here for student halls, houses and apartments
Student Properties in Wrexham
Are you a landlord looking to list a property? Register
Not sure what type of accommodation is right for you?
AFS always has the widest choice of student accommodation available. To help you find the right place to live, read our brief guide to the different types of accommodation below.
Why use Accommodation for Students?
The widest choice of student accommodation available online
Quickly make direct contact with the property to view or book your accommodation
Established in 2000, home to reputable and safe student accommodation
Free and simple to use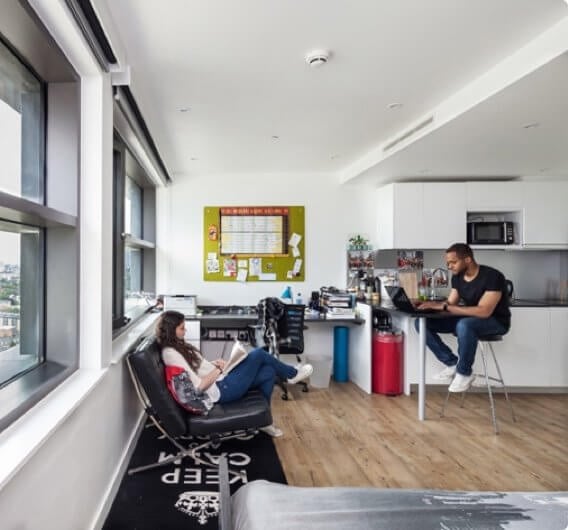 Living in Wrexham as a student
Wrexham is home to Glyndŵr University and Yale College and hosts around 8000 full time students each year with over 350 being from outside the UK. Being the fourth largest urban area in Wales, Wrexham is known as a centre for manufacturing, retail, education and administration.
With 8000 students, there are different accommodation options with rooms available as both single and en-suite at the Glyndŵr University campus. Private options include the Snowdon Hall, Wrexham village and Corbishley Hall.
Snowdon Hall is a popular privately owned option with 156 en suite bedrooms in flats of 6 with shared kitchens. Wrexham Village has high ratings for value for money and location whereas Corbishley Hall offers self catered options on the Northop Campus.
It is also possible to find shared housing in town centre for those students who are looking to move on from halls of residence and these are usually managed by landlords that specialise in student accommodation.
For more information head to our online guides or if you're ready to start finding accommodation try accommodationforstudents.com. We have over 20 years of experience in helping students find a place to live either through our website, or direct contact through accommodation. You can also contact our team for more support.
Frequently Asked Questions
Are you going to live and study in Wrexham? Here are the most frequent questions asked by other students.
When is the best time to look for student accommodation in Wrexham?
Most students look for shared housing in Wrexham from October, although there will be student accommodation available all year round. First year and international students generally start looking in January for halls of residence.
How much does student accommodation cost in Wrexham?
The amount you pay will depend on the type of student accommodation you choose. A shared house in Wrexham will cost you £86 per week. A halls of residence will cost, on average £168 per week, but could cost more depending on what type of room you select.
What is the best way to search for student accommodation in Wrexham?
Accommodation for Students has the widest range of student accommodation currently available in Wrexham. This includes halls of residence, house shares, flats and apartments. You can enquire directly to your chosen accommodation or get more support through our live help team. AFS has accommodation across the whole city including City Centre and Near University.
How long does a tenancy agreement last for?
In Wrexham the standard length of contract is 46 weeks. However it is possible to have a longer or shorter agreement than this. Some halls of residence will only offer a 50 or 52 week tenancy agreement for example.
Is it possible to have a short term or summer only contract in Wrexham?
Yes, a selection of the student accommodation listed on AFS will offer short term stays. This is most often the case for halls of residence in Wrexham. Look out for the properties which have the short term let badge or filter your search by 'letting period'.
How much do I have to pay for a deposit?
This will depend on the type of property you choose. The most anyone can legally charge is 5 weeks rent. Some accommodation in Wrexham halls of residence will not require a deposit at all, while on average the deposit in a shared house in Wrexham will be £344.
How can I make sure I get my deposit back at the end of my tenancy?
All landlords and property manages in Wrexham are legally required to protect your deposit in a legally recognised tenancy deposit scheme. If you take care of your student accommodation you should have no problem getting your money back. You can check out some further information right here.
Wrexham Universities
Wrexham is home to one major university.