Student Accommodation
Manchester
With just over 100,000 students across three high-quality universities, Manchester has a well-deserved reputation as a great student city. Here you can search and find student accommodation in Manchester, including student houses, flats, and halls.
Search location
Select beds
Select price
Are you a landlord looking to list a property? Register
Not sure what type of accommodation is right for you?
AFS always has the widest choice of student accommodation available. To help you find the right place to live, read our brief guide to the different types of accommodation below.
Why use Accommodation for Students?
The widest choice of student accommodation available online
Quickly make direct contact with the property to view or book your accommodation
Established in 2000, home to reputable and safe student accommodation
Free and simple to use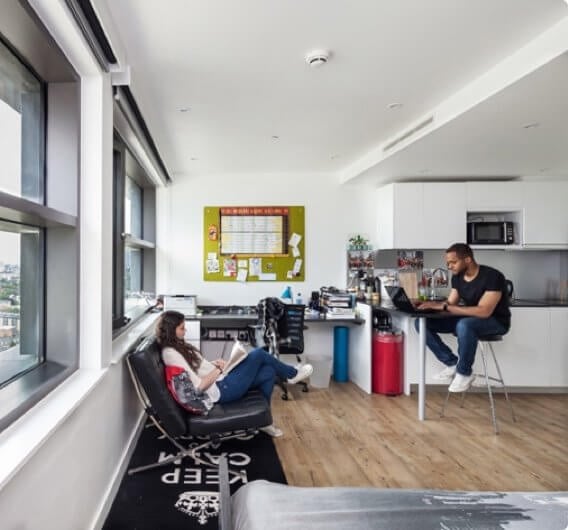 Living in Manchester as a student
Manchester is the largest city in the North West of England and the second most populated place in the UK (after London). Whether you are studying in Manchester already or are heading here for your first year – here's what you need to know when you are looking for student accommodation in Manchester:
You're probably wondering where you're going to live while studying in Manchester. Well, Accommodation for Students has got that covered. We've got the accommodation you need within your budget, from flats and houses to Student Halls – whatever University you go to. Whether you're headed to The University of Manchester, Manchester Metropolitan University, The Royal Northern College of Music, or Nazarene Theological College, Accommodation for Students has a wide array of student accommodation available in Manchester and the surrounding areas.
Some of the most popular places for students in Manchester to live are:
Didsbury: One of the most popular parts of Manchester for anyone to live in, never mind just Students, is Didsbury. You'll have to balance paying more for your student accommodation and traveling further to Uni against having access to this area's fantastic lifestyle.
Fallowfield: With no less than eight halls of residence situated here, Fallowfield is the hub for most Students in Manchester. This is reflected in many takeaways and late-night bars, so this may not be the area for you if you're after a quiet life.
Hulme: Close to the city centre, Hulme is an area that has been invested in a lot in recent years, and so there are plenty of newly developed buildings to choose from. It is quieter than some other options as there are not so many bars and clubs.
Oxford Road: Not an area as such, but the closer you are to Oxford Road, the closer you will be to the University of Manchester's main campus and some of the coolest hotspots in the area.
Rusholme: Halfway between Fallowfield and the City Centre, Rusholme is one of the most affordable places for students to live. It is most well-known for the 'Curry Mile', which is packed full of Indian restaurants and attracts people from all over the North West.
Withington: In-between Didsbury and Fallowfield is a densely populated student area called Withington. Withington is popular as it has many reasonably priced student houses and flats.
Don't worry if your student accommodation is not located very close to your University campus in Manchester. There are many ways to move around the city. Manchester is a compact city, like Liverpool, and there are lots of buses, trams, and trains around to get you where you need to go. Manchester is a really cycle-friendly city as well, with lots of marked cycle lanes running throughout the city.
It's also important to know that you will never get bored when you come to study in Manchester. No matter what you are into or what you are learning, there is something here for everyone to enjoy:
Art & History: Manchester is home to a wide range of galleries and museums, where you can learn about topics as diverse as classic art, the history of football, and the campaign for social justice.
Heritage & History: Manchester is the birthplace of the Industrial Revolution. It has a variety of museums celebrating things, such as it being the home of the first commercial bus route and first passenger railways.
Food and Drink: Manchester has an extensive food and drink scene and is firmly established as one of the most exciting places in the UK to eat or drink. From humble street food and pop-up markets to afternoon tea and fine dining – whatever you fancy eating, Manchester will offer it.
Retail: People travel from all over the world, never mind the UK, to come and shop in Manchester thanks to its bustling shopping centres, high street destinations, international department stores, and independent boutiques.
Sports: Manchester is home to two premier league clubs – Manchester City and Manchester United, and Lancashire County Cricket Club, based at Old Trafford Cricket Ground. It also hosted the Commonwealth Games in 2002, meaning it is now home to many fantastic sports facilities.
Wherever you are studying in Manchester, and wherever you want to live, check out our live list of all of the student accommodation in Manchester – from flats and studios, to student halls and houses.
Frequently Asked Questions
Are you going to live and study in Manchester? Here are the most frequent questions asked by other students.
Most students look for shared housing in Manchester from October, although there will be student accommodation available all year round. First year and international students generally start looking in January for halls of residence.
The amount you pay will depend on the type of student accommodation you choose. A shared house in Manchester will cost you £94 per week. A halls of residence will cost, on average £154 per week, but could cost more depending on what type of room you select.
In Manchester the standard length of contract is 46 weeks. However it is possible to have a longer or shorter agreement than this. Some halls of residence will only offer a 50 or 52 week tenancy agreement for example.
Yes, a selection of the student accommodation listed on AFS will offer short term stays. This is most often the case for halls of residence in Manchester. Look out for the properties which have the short term let badge or filter your search by 'letting period'.
This will depend on the type of property you choose. The most anyone can legally charge is 5 weeks rent. Some accommodation in Manchester halls of residence will not require a deposit at all, while on average the deposit in a shared house in Manchester will be £376.
All landlords and property managers in Manchester are legally required to protect your deposit in a legally recognised tenancy deposit scheme. If you take care of your student accommodation you should have no problem getting your money back. You can check out some further information
right here.
Manchester Universities
Manchester is home to both the University of Manchester and Manchester Metropolitan University.