Student Accommodation
London
London is a global centre of excellence for education, with 23 major universities and over 350,000 students. Search here for student accommodation in London. Find studios, flats, houses, and luxury student halls.
Search location
Select beds
Select price
Are you a landlord looking to list a property? Register
Not sure what type of accommodation is right for you?
AFS always has the widest choice of student accommodation available. To help you find the right place to live, read our brief guide to the different types of accommodation below.
Why use Accommodation for Students?
The widest choice of student accommodation available online
Quickly make direct contact with the property to view or book your accommodation
Established in 2000, home to reputable and safe student accommodation
Free and simple to use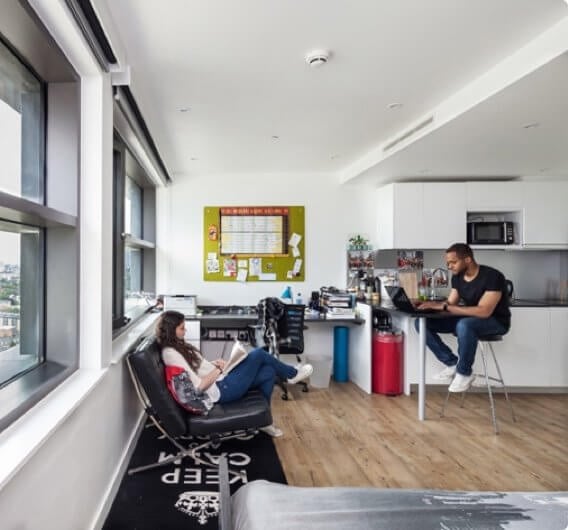 Living in London as a student
London, the UK's capital city. Whether you are studying in London already or are heading here for your first year – here's what you need to know when you are looking for student accommodation in London:
Now, of course, you're probably wondering where you're going to live while studying here. Well, Accommodation for Students has got that covered.
From 1-bed studios to 6-bed flats, we've got the accommodation you need within your budget – whatever University you go to.
If you're going to the University of London or University College London, then you'll want to be in Zone 1 (otherwise known as Central London), but this can get quite pricey. Head further out to Zones 2, 3, or 4 if you want something more pocket-friendly.
Some of the most popular places for students to live in London are:
Camden: Situated in North London, Camden is a great place to star spot, and it is also home to old cobbled streets packed full of bars, restaurants, and great shopping opportunities.
Dalston: One for the hip and cool amongst you, Dalston sits in the East End of London next to Shoreditch. Its open markets and vintage stalls tend to attract a more creative crowd.
Docklands: A bit of a wild card, but one for the money-savvy among you; Docklands is more relaxed than some areas as it is a bit on the outskirts – but it does have excellent transport links to get you where you need to go.
Kensington: Slap bang in the centre of London, and a stone's throw from both Buckingham Palace and Oxford Street, this is where every student wants to live.
Richmond: If city life does not appeal to you, then Richmond is where you want to be; it is full of beautiful open spaces that feel like you're out in the country.
Don't worry if your student accommodation is not located close to your Uni; there are plenty of ways to get around London. The most famous way to travel in London is the Tube (or underground) of course, where you can use your Oyster card to get around quite easily. A Bus is also a great option for students, or you can save loads of money by walking or biking it!
It's also important to know that you will never get bored when you come to study in London. No matter what you are into or what you are learning, there is something here for everyone to enjoy:
Art and History: You can explore your love of Art at the National Gallery, the Saachi Gallery, or Tate Modern, or while away an afternoon checking out the exhibits at the British Museum or the V&A.
English History: London is home to many of the world's most famous historical landmarks, such as Buckingham Palace, the Houses of Parliament (and Big Ben), St Paul's Cathedral, the Tower of London, and Westminster Abbey, to name a handful.
Food and Drink: From sublime Michelin starred restaurants such as Marcus and Le Gavroche when mum and dad visit to superb pub grub at The White Swan or The Four Thieves when you're footing the bill – London has everything you need to stop that belly rumbling.
Retail: From Harrods, Liberty's, and Selfridges when you want to splash the cash to Camden Market and Carnaby Street when you want something more pocket-friendly – London is packed full of some of the best places to shop in the whole of the UK. You won't be short of places to spend that student loan!
Sports: London is home to the Lord's Cricket Ground, Twickenham Rugby Stadium, Wimbledon Tennis Club, and of course – Wembley.
Wherever you are studying in London, and wherever you want to live, check out our live list of all of the student accommodation in London, flats and studios, to student halls and houses.
Frequently Asked Questions
Are you going to live and study in London? Here are the most frequent questions asked by other students.
Most students look for shared housing in London from October, although there will be student accommodation available all year round. First year and international students generally start looking in January for halls of residence.
The amount you pay will depend on the type of student accommodation you choose. A shared house in London will cost you £187 per week. A halls of residence will cost, on average £284 per week, but could cost more depending on what type of room you select.
Accommodation for Students has the widest range of student accommodation currently available in London. This includes
halls of residence
,
house shares
,
flats and apartments
. You can enquire directly to your chosen accommodation or get more support through our live help team.
AFS has accommodation across the whole city including E14 and Newington.
In London the standard length of contract is 46 weeks. However it is possible to have a longer or shorter agreement than this. Some halls of residence will only offer a 50 or 52 week tenancy agreement for example.
Yes, a selection of the student accommodation listed on AFS will offer short term stays. This is most often the case for halls of residence in London. Look out for the properties which have the short term let badge or filter your search by 'letting period'.
This will depend on the type of property you choose. The most anyone can legally charge is 5 weeks rent. Some accommodation in London halls of residence will not require a deposit at all, while on average the deposit in a shared house in London will be £748.
All landlords and property managers in London are legally required to protect your deposit in a legally recognised tenancy deposit scheme. If you take care of your student accommodation you should have no problem getting your money back. You can check out some further information
right here.