Student Accommodation
Derby
Derby is an accessible student friendly city, in the heart of some of the UK's best countryside and home to the University of Derby. Here you will find all types of student accommodation in Derby including student houses, flats and halls.
Search location
Select beds
Select price
Are you a landlord looking to list a property? Register
Not sure what type of accommodation is right for you?
AFS always has the widest choice of student accommodation available. To help you find the right place to live, read our brief guide to the different types of accommodation below.
Why use Accommodation for Students?
The widest choice of student accommodation available online
Quickly make direct contact with the property to view or book your accommodation
Established in 2000, home to reputable and safe student accommodation
Free and simple to use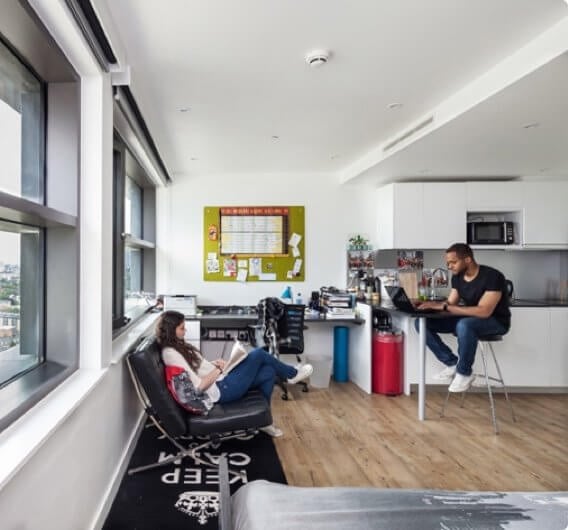 Living in Derby as a student
Derby serves as home to nearly 20,000 students of the University of Derby. Established in the Roman times, Derby gained city status in 1977 and as of the latest census boasts a population of nearly 250,000. It is an attractive and welcoming destination to students from all around the world.
A healthily-sized student population ensures a good accommodation provision in the city. There are 14 student halls in Derby, with some managed by the University. Students planning to live in University halls can expect a variety of rooms on offer, from standard single rooms in flats with shared sanitary facilities and kitchens, to 'gold studios'. Rooms vary in size, standard and price, ensuring that any student is able to find a suitable accommodation.
Private operators are also present in Derby, with a few student halls provided by the nation's top firms. Attractive amenities, good standard of rooms, and a good choice of rooms and studios make this type of accommodation particularly attractive to students. In addition to the traditional halls of residents, students can also seek other options such as houses, flats and apartments. It is as popular as ever among students of University of Derby to rent a larger property. Groups of 4 or more friends are commonly found sharing a house or a large flat. This type of arrangement helps drive individual costs down and gives students freedom of choice in choosing the location and furnishing of their property of choice. Flats and apartments are also popular and are especially suitable to those wishing to share with their partner, or a smaller number of flatmates. All these types of properties are in good supply in Derby. They are usually managed by Derby's landlords and estate agents, many of whom have an excellent reputation for catering to students wants and needs, as they commonly specialise in renting student properties.
For more information about the city read our in-depth online guide. When you are ready to find accommodation, start your search on accommodationforstudents.com. Our search tool allows you to tailor the search results to your exact needs and enquire directly with the accommodation of your choice. If you ever feel that you need additional support, our team is always on stand-by to assist you and answer any enquiries. We are proud of our 20 years of experience in helping students find the perfect accommodation. We currently list a good selection of accommodation on our website, so you are sure to find something just right for you.
Frequently Asked Questions
Are you going to live and study in Derby? Here are the most frequent questions asked by other students.
Most students look for shared housing in Derby from October, although there will be student accommodation available all year round. First year and international students generally start looking in January for halls of residence.
The amount you pay will depend on the type of student accommodation you choose. A shared house in Derby will cost you £80 per week. A halls of residence will cost, on average £129 per week, but could cost more depending on what type of room you select.
Accommodation for Students has the widest range of student accommodation currently available in Derby. This includes
halls of residence
,
house shares
,
flats and apartments
. You can enquire directly to your chosen accommodation or get more support through our live help team.
AFS has accommodation across the whole city including Uttoxeter and Darley.
In Derby the standard length of contract is 46 weeks. However it is possible to have a longer or shorter agreement than this. Some halls of residence will only offer a 50 or 52 week tenancy agreement for example.
Yes, a selection of the student accommodation listed on AFS will offer short term stays. This is most often the case for halls of residence in Derby. Look out for the properties which have the short term let badge or filter your search by 'letting period'.
This will depend on the type of property you choose. The most anyone can legally charge is 5 weeks rent. Some accommodation in Derby halls of residence will not require a deposit at all, while on average the deposit in a shared house in Derby will be £320.
All landlords and property managers in Derby are legally required to protect your deposit in a legally recognised tenancy deposit scheme. If you take care of your student accommodation you should have no problem getting your money back. You can check out some further information
right here.
Derby Universities
Derby is home to one major university.