Student Accommodation
Leeds
Search student accommodation in Leeds near main Universities. AFS has the latest available student houses, student halls, student flats, all types of student accommodation in Leeds and surrounding areas.
Search location
Select beds
Select price
Are you a landlord looking to list a property? Register
Not sure what type of accommodation is right for you?
AFS always has the widest choice of student accommodation available. To help you find the right place to live, read our brief guide to the different types of accommodation below.
Why use Accommodation for Students?
The widest choice of student accommodation available online
Quickly make direct contact with the property to view or book your accommodation
Established in 2000, home to reputable and safe student accommodation
Free and simple to use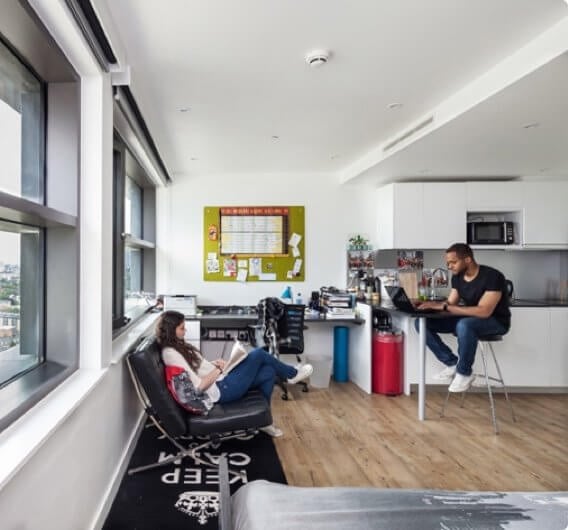 Living in Leeds as a student
Leeds. The 8th largest city in the UK. Whether you are studying in Leeds already or are heading here for your first year – here's what you need to know when you are looking for student accommodation in Leeds:
You're probably wondering about where you're going to live while you're studying in Leeds. Well, Accommodation for Students has got that covered. From 6 bed flats to 1 bed studios, we've got the bills-inclusive accommodation you need within your budget. No matter whether you're headed to the University of Leeds, Leeds Beckett University, Leeds Trinity University, Leeds Art University or even University Centre Leeds, Accommodation for Students has all types of student accommodation available in Leeds and the surrounding areas.
Some of the most popular places for students in Leeds to live are:
University Area: Not officially an area as such but tends to cover the area with the postcode L52 9 - so as close to the University of Leeds as possible. Students living here benefit from being close to both the Uni and the city centre, as well as being minutes away from the popular Hyde Park.
Hyde Park: A popular area for students in Leeds as it is very close to the University, and offers a great choice at competitive rents. There are lots of pubs and places to eat around here too.
Clarence Dock: The cost of housing is on the high side in Clarence Dock (also known as Leeds Dock) but it does offer students waterside living on the banks of the River Aire. It's only a ten-minute walk to the city centre from here too - so you get the best of both worlds.
Brudenell Road: On the cheaper end of the scale is Brudenell Road which is popular with students due to the low housing costs.
Headingly: Headingly is popular with students attending all of the Universities in Leeds and is a multicultural area packed full of bars, restaurants, and shops.
Don't worry if your student accommodation is not located that close to your Uni in Leeds, there are plenty of ways to get around. The Bus is a great option for students and the city is well served by First group You can also save loads of money by walking or biking around this compact city. For longer journeys, the city is connected on a major train line with a station in the heart of the city
It's also important to know that when you come to study in Leeds, you will never get bored. No matter what you are into or what you are studying, there is something here for everyone to enjoy:
Art and History: There are plenty of cultural options to while away spare hours you have in between lectures - from the Leeds Art Gallery to the Leeds Discovery Centre.
English History: Leeds is also home to some fantastic museums that will help you explore the origin of the city - from the Leeds Industrial Museum, to the Abbey House Museum based around the old Victorian streets of Leeds.
Food and Drink: From independent food and drink retailers to coffee shops service afternoon tea, and even rooftop and outdoor eating options - Leeds has plenty to offer when it comes to food and drink.
Retail: You may not realise this, but Leeds is one of the best shopping destinations in the UK. It not only has all the high street and luxury brands you would expect, but also some fabulous Victorian arcades featuring independent stores for something that is a little bit different.
Sports: Leeds is a city of sporting prowess, and home to both Leeds United (Elland Road) and the Leeds Rhinos (Emerald Headingley Stadium) - not forgetting the famous Tour de Yorkshire of course!
Wherever you are studying in Leeds, and wherever you want to live, check out our live list of all of the student accommodation in Leeds – from student flats and studios, to student halls and houses.
Frequently Asked Questions
Are you going to live and study in Leeds? Here are the most frequent questions asked by other students.
Most students look for shared housing in Leeds from October, although there will be student accommodation available all year round. First year and international students generally start looking in January for halls of residence.
The amount you pay will depend on the type of student accommodation you choose. A shared house in Leeds will cost you £121 per week. A halls of residence will cost, on average £146 per week, but could cost more depending on what type of room you select.
Accommodation for Students has the widest range of student accommodation currently available in Leeds. This includes
halls of residence
,
house shares
,
flats and apartments
. You can enquire directly to your chosen accommodation or get more support through our live help team.
AFS has accommodation across the whole city including Hyde Park and Kirkstall.
In Leeds the standard length of contract is 46 weeks. However it is possible to have a longer or shorter agreement than this. Some halls of residence will only offer a 50 or 52 week tenancy agreement for example.
Yes, a selection of the student accommodation listed on AFS will offer short term stays. This is most often the case for halls of residence in Leeds. Look out for the properties which have the short term let badge or filter your search by 'letting period'.
This will depend on the type of property you choose. The most anyone can legally charge is 5 weeks rent. Some accommodation in Leeds halls of residence will not require a deposit at all, while on average the deposit in a shared house in Leeds will be £484.
All landlords and property managers in Leeds are legally required to protect your deposit in a legally recognised tenancy deposit scheme. If you take care of your student accommodation you should have no problem getting your money back. You can check out some further information
right here.
Leeds Universities
Leeds is home to four universities, including Leeds Beckett and Leeds Arts University.